Seven years without a playoff appearance can do some crazy things for a fan base. Everybody can still clearly picture Brind'Amour, Wesley and Co hoist the Cup back in '06 and, if they think hard enough, most can probably remember Cam Ward's magic that led the Hurricanes to the Eastern Conference finals in '09. Still, the better part of a decade has passed since Caniac Nation tasted success, and those good times have long been buried under recent memories of failed expectations and poor play.
This, of course, spawned a hailstorm of criticism that has found targets from players named Staal, Skinner and Ward to the owner Karmanos, and everybody down to the goalie coach David Marcoux. Perhaps no one took more criticism during the losing years, than former GM Jim Rutherford, the architect of the stellar Hurricanes teams of the 2000s. When Ron Francis took over and Rutherford left for Pittsburgh in 2014, it marked a change in philosophy with the Canes, as they said goodbye to many icons, most recently the longtime captain and #2 all-time Canes scorer, Eric Staal. In fact, from JR's final Canes team in 2013-14, only 6 players (Justin Faulk, Elias Lindholm, Ron Hainsey, Jeff Skinner, Jordan Staal and Cam Ward) remain with the club.
What has happened since? Well, 2015-16 represented the Hurricanes highest point total (86) since missing out on the playoffs in the final game back in 2010-11 and Ron Francis has elicited near hero-worship from many fans for the young talent he has accumulated. Meanwhile, the oft-maligned Rutherford went to Pittsburgh and won a Cup in 2016, the Hurricanes still haven't gotten back to the playoffs and a sort of excited uncertainty looms for the upcoming season. Yet, as the proverb goes, 'You can't know where you're going, until you know where you've been,' so this article is going to look at the Jim Rutherford-Ron Francis transition, specifically the opening night rosters and major acquisitions from the 2013-14 season until now, and see just how different the 2016-17 Carolina Hurricanes team really is.
2013-14: Rutherford's Last Hurrah
For better or worse, Rutherford's final season will always be known by his biggest mistake, giving Alexander Semin financial security. In reality, it actually started out with optimism. The previous lockout shortened 2012-13 season saw the Canes in a playoff spot as late as March, before a Cam Ward injury drove the Canes off a cliff.  JR brought in veterans Andrej Sekera and Mike Komisarek to shore up the defense behind top line of Gleason/Pitkanen, and banked on the Semin-Staal-Tlusty line which had been so potent the previous year. While we all know how well that turned out, Semin was terrible, Pitkanen broke his ankle and never played another NHL game and JR was gone after the season. His final opening night roster, and subsequent additions/transactions looked like this (player age in parenthesis):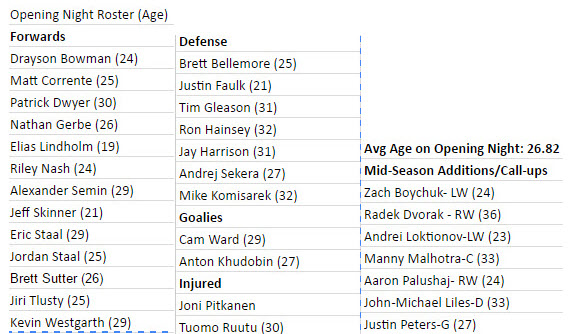 Apologies to those of you with weak stomachs, I realize that defense is hard to look at. We could spend many paragraphs detailing how this final Rutherford team was poorly put together, but we have three more years to look at, so we'll evaluate in a bit. For now let's look at:
2014-15: The Rise of Ron
Clearly, the Hurricanes biggest move of this season was not seen on the roster, but Francis' initial move, bringing in first-time NHL head coach Bill Peters to replace Kirk Muller, signaled the start of a major shift in Raleigh. While the 2014-15 opening night roster much resembled JR's final squad from previous years, complete with re-signing 2014 trade deadline casualty Tim Gleason, the preseason broken leg of Jordan Staal put to bed any hopes of contention fairly quickly. This also led to Francis' and Peters' first impact move of the rebuild, simply by allowing Victor Rask to come out of nowhere to earn a roster spot. Here's how Francis' first Canes team looked: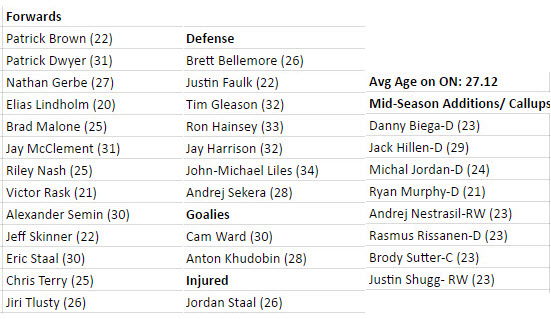 While we will still hold the majority of comparison and evaluation until the end, it is interesting to point out that while the opening night average age did rise slightly, the youth movement in-season started in full swing. While the average age of the 13-14 midseason call-up/addition was 28, the following season saw that number dropto 23.4, and brought Raleigh-ites their first look at players like Murphy and Nestrasil. Though the Canes were never real contenders in the McDavid Sweepstakes, the team was still bad enough to earn a top 5 pick, which brings us to:
2015-16: The Millennials Take Over
It was this last season where the Hurricanes really started finding an identity that was not tied to the glory days of the previous decade. It all began with the #5 pick in the 2015 NHL draft and a little bit of luck, as the top-rated defenseman in the draft, Noah Hanifin, fell to Carolina and a light buzz started emanating through the fan base. Then came the First Fleece of the Blackhawks bringing in Kris Versteeg and Joakim Nordstrom. Yet, another devastating early injury (this time to the newly-acquired James Wisniewski), and the glorious new buyout rules that finally got Alexander Semin out of Raleigh, the kids were let out to play yet again.   Here's how the roster played out: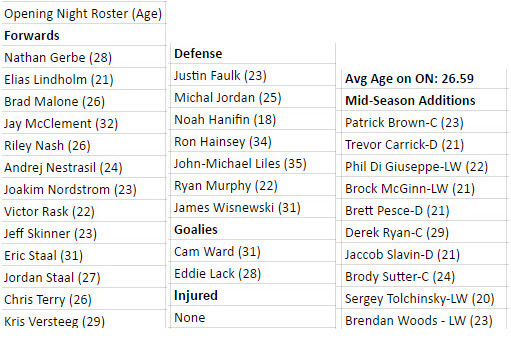 I'm still marveling at the chemistry of this team, who managed to near-seamlessly integrate a trio of sub-22 rookies (Pesce, Slavin and Di Giuseppe), get rid of major veteran players in-season (Versteeg, Liles and Captain Cane Eric Staal), yet still remain competitive into the final weeks. The average age of the opening day roster was 26.5. By the final day of the season it was under 23. The youth on the Hurricanes team was very evident. They fought hard nearly every game, yet led the league with 16 overtime losses. Still, the youth movement has driven the excitement and expectations in Raleigh higher than they have been in several years, and it leads us to one more roster look. A glance at the potential opening night look of the 2016-17 team.
2016-17: Do We Get to Tailgate at PNC in April?
This is Ron's team. As previously mentioned, only 5 players still remain from Rutherford's final 13-14 club. Familiar names like Eric Staal, Riley Nash, Chris Terry, and Nathan Gerbe are gone. In their place, Lee Stempniak, Viktor Stalberg, Teuvo Teravainen and young Finnish phenom Sebastian Aho. While this fan has zero idea what is going on in the minds of Francis and Peters, a reasonable expectation for the opening night roster looks like this: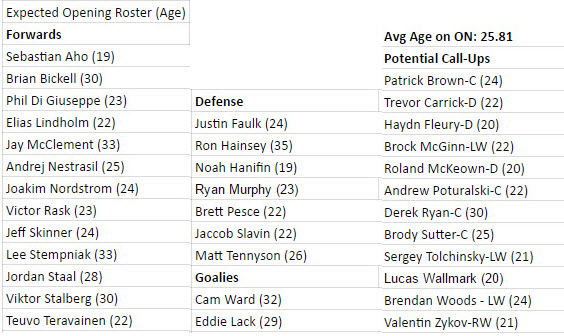 *Side Note: I wrote this before Matt Tennyson got cut. The actual average age is now likely even younger.
A cursory glance at this roster shows that Francis will likely have his youngest roster yet, with only 6 players over the age of 30 (and 3 of those as likely 4th liners/healthy scratches) The list of 12 potential call-ups is more than the Hurricanes have ever called up in the previous three seasons, more than half of those have donned the Hurricanes uniform for several games already, and only two (Ryan and Sutter) are 25 or older. More than that, there are several Hurricane prospects still in camp (Jake Bean, Julien Gauthier, Warren Foegele) who aren't on that list due to the juniors' rules. It doesn't take an Excel expert to see the huge increase of skater depth that the Hurricanes have now, as opposed to four years ago. I'm almost foaming with excitement over the prospects of this team. Still…..I feel like I'm forgetting something. Oh right!
The Goalies
I didn't mention them because, outside of swapping out backup Anton Khudobin/Justin Peters for Eddie Lack, it hasn't changed. At all. Cam Ward was between the pipes opening night in 2013, and in all likelihood, he'll be the man in net for opening night 2017. If this isn't the #1 spot of concern for Hurricanes' fans it's #1B, and rightly so. In the last four years, Cam seems to have done nothing but age and befuddle fans with spectacular saves followed by the softest goals. Prized prospect Alex Nedeljkovic will make his way to the AHL for the first time this year, but any expert will tell you that he's still 1-2 years away. Now, you are all entitled to, and probably will, question my sanity when I say I am perfectly content with Cam Ward in net (that's a long post for another time), but I think he's going to be slightly better this year. Again, I digress. This is about Francis vs. Rutherford and Cam Ward arguments can go for weeks.
JR vs Ron: The Comparison
On the surface, a Hurricanes fan could easily question how Jim Rutherford ever got another job as a GM, and sing the "In Ron We Trust" mantra like it was "The Song that Doesn't End." Yet, it's important to note how much of a role Rutherford has played in this youth movement, even years after his departure. Outside of the six holdovers (which arguably includes our three best players in Jordan Staal, Faulk and Skinner), the Rutherford-era is responsible for drafting Di Giuseppe, Rask, Murphy, Pesce and Slavin. In total, JR brought in 11 of the players who will likely be part of our opening night roster in 2016-17. We can, again, spend a good while debating the merits of the Lindholm pick and the Jordan Staal acquisition, but they're still on the roster so that serves no purpose at this point.
Maybe Jim Rutherford didn't pull the plug on the 2000-era Canes core soon enough, but it's also important to acknowledge that injuries have played one heck of a factor in our playoff drought. I predict one day, far in the future in playoff-land, the fan base may forgive JR for Alexander Semin, as the latter drifts farther and farther into obscurity in some tiny rink in Siberia. But then, I didn't really intend for this article to vindicate Jim Rutherford, and further, of the 16+ 2013-14 Hurricanes players that left the Hurricanes prior to last season, just two (Ruutu, Sekera) have played more than 30 NHL games since.  That's pretty bad. For this conclusion, let's just focus on the present.
In Ron We Trust
Since Mr. Francis has taken the reins of the Canes, he has almost completely swept out the older, established talent with fresh new blood. While, based on our projected roster, he has lowered the average age by about a full year, the only reason its just one year, is because Ron filled up the roster with some older players.  The new Hurricanes this year are Stempniak (33), Stalberg (30), Bickell (30) and Teravainen (23). Only two of these players are really expected to play top-9 minutes, and the young Teravainen is one of them (Side note: Seriously, thanks for letting us rob you twice, Chicago). All 3 of our opening night 4th liners could be above 30 on opening night. Our top 3 lines? Just one total (Stempniak).
To put it in the realist terms, however, let's look at our biggest strength, (and who would have said this a year ago) the blueline. The atrociously bad 2013-14 Hurricanes opening night defense, averaged 28.4 years old.  The 2016-17 projected? 24.4, and that's assuming Fleury, McKeown and Carrick don't dominate camp and earn their own roster spot, in which case that number drops again (especially if it's Hainsey they knock out of the lineup). It should be noted that this author is clearly age-ist, but let's talk truth. It's not going to be the 30+ players that will make up the core of our team in a few years when we are all laughing about the memory of this playoff drought.
Take Heart Canes Fans, The Drought Will End Soon
The Caneiac Nation can celebrate because this year, we won't need to call on the past-their-prime Dvoraks and the Malhotras to eat up ice time (YAY Torres got waived!). This year, we have 12 players, under the age of 25, who have at least 50 games of NHL experience. Yes, the Hurricanes scoring capabilities are questionable at best. Yes, our collective goalie over the last four years, regardless of jersey name, has been mediocre. Yes, it has been seven years since we've seen playoff hockey in Raleigh and that is infuriating. Still, Ron Francis has built a team that, even if it doesn't erase the drought this year, seems well on its way to making sure that drought will become a rapidly fading memory in the years to come.