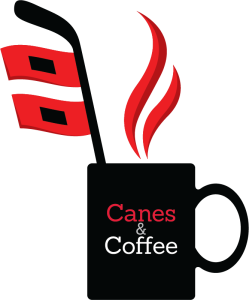 If you checked out over the weekend, you can find a couple other Daily Cup of Joe blogs in the archives here.
Much has been made in general about players in the NHL getting bigger.  And Ron Francis is on record as wanting the Carolina Hurricanes to get bigger.  It showed a bit in the draft this year and also in the prospect camp where the Canes were noticeably bigger than in years past.  And there seems to be nearly unanimous agreement that the team needs to get bigger to be successful.
I actually disagree.  I have ambitious plans of writing a deeper research blog on this, but with uncertainty on whether I will make time, I figured I would write at least put the short version sooner.  I agree that all things being equal, bigger is better than smaller in today's NHL.  But things are very rarely equal, and when they are not, I think speed, skating and skill trump size every time.  And I do agree that the league is getting bigger overall.  But I think that is really just the general trend for all pro sports in general.  Just because the average size is increasing does not mean that bigger has become more important.
I think the 2015-16 playoffs were like bright flashing lights saying that the conventional wisdom is not right.  The Stanley Cup Finals were a showcase of two teams built very heavily on the ability to attack and play the game with a wicked combination of speed and skill.  I have mixed feelings on defense, but at forward, I argue two things.  First, size is not really all that important.  Second, what is is the willingness to go to the net.  I think that is where the "must be big" misconception comes into play.  In today's NHL, it is increasingly challenging to beat NHL goalies from a ways out.  You need chances (and sometimes just weird deflections and chaos from in close) to score in today's NHL which means getting people AND pucks to the front of the net.  In general, it should be easier for bigger players to get to the front of the net and stay there.  But I think that is maybe the key fallacy.  Canes fans know from experience that some bigger players just do not go to the front of the net as much as coaches would hope and that some even when they do tend to flash in and out instead of just parking there and waiting for the puck to show up.  And we know from watching the Tyler Johnson line for 20+ playoff games that speed, skill and pace are important for getting the puck (not just bodies) to the front of the net.  Going to the front of the net is much more so a willingess and habit than it is a skill that comes in the form of big bodies.
So where I end up is twofold.  I think size is overrated in today's NHL for certain at the forward position.  (I go back and forth a bit more on defense, but that is for another day.)  I think what is required, regardless of size, is a willingness, desire and habit to go to the front of the net.
With anecdotal Tyler Johnson line evidence already noted, here are a couple other interesting facts:
–The Tampa Bay Lightning forwards (using game 7 lineup) averaged 195.0 pounds.
–The Chicago Blackhawks forwards (also using game 7 lineup) were even smaller at an average of 191.5 pounds.
–The current Carolina Hurricanes forwards (using 11 players signed on 1-way contracts) averages 200.2 pounds.  That does fall short of the other two playoff semifinalists (Rangers and Ducks) from 2015, but the Canes are closer to the two big semifinalists (who lost) than the two smaller teams who played for the Cup.  The Rangers averaged 202.5 pounds and the Ducks 204.2 pounds.
–At an even 200 pounds, Jeff Skinner would have been the fourth biggest Blackhawk forward or the third biggest Lightning forward had he suited up for game 7 of the 2015 Stanley Cup Finals.
As a fan who loves hockey that combines a torrid pace and top-end skill (reference the Canes vs. Sabres from 2005-06 especially in the regular season), I am thrilled to see that it is what is winning I the NHL right now.  I hope that Ron Francis and his staff also recognize that good hockey players trump big hockey players and look to opportunistically add size but not at the expense of speed and pure hockey ability.
Go Canes!