If you were away from Canes and Coffee for the weekend, on Saturday I posted part 3C of my prospect evaluations and rankings which featured that last group of forwards. That article also includes links to the previous parts if you are catching up.
My wrap up today will combine the rankings for all three positions to create a top 15 and it will also offer a few parting thoughts on the rankings and various players.
Complete Carolina Hurricanes prospect rankings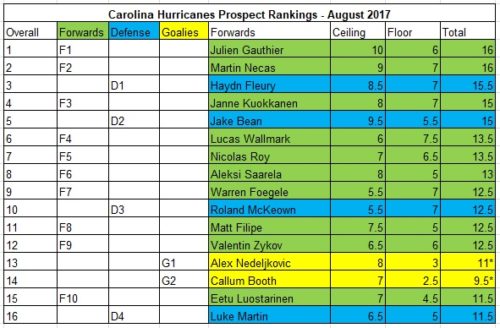 **Goalies Nedeljkovic and Booth are boosted above what "Totals" would rank them to account for importance of goalie position and adjust for high uncertainty for almost all young goalie prospects.
A few comments on the rankings
Here are a few random observations on the rankings and the project in total.
It is less about where a player is today, and more about how rapidly and significantly he can improve from here. Had I created  similar list at this time two years ago today, Brett Pesce and Jaccob Slavin would probably have probably been battling for the #5 slot among defensemen below Noah Hanifin, Haydn Fleury, Trevor Carrick and even Ryan Murphy. And against a lesser prospect pool two years ago, they might/might not have pushed into a top 16.
The depth at forward jumps out. Seven of the top 9 are forwards, and there are a at least a few players who did not make the top 16 who are quite promising as well.
Despite being ranked #1 and #5 overall respectively, I do not consider Julien Gauthier or Jake Bean to be sure things. Both are rated (and were drafted) highly because of their incredibly high ceilings, but both also have significant work to do to round out their games for the NHL which makes both high risk/high reward.
Warren Foegele rates higher for making the roster short-term. The rankings have a bias toward having a high upside (which I think they should). Though he is rated #9 overall, I think Foegele's chances to make the 2017-18 opening day lineup are as good as anyone's except Fleury's. That is because his forechecking style and two-way play are a good fit for Peters's system.
I am torn on ranking Lucas Wallmark so highly. Coming out of preseason and through half of the 2016-17 season, I liked Wallmark but had him pegged as Victor Rask-lite without much for dynamic offensive ability of much scoring upside. His goal-scoring burst in the second half of the season really caught my eye. But if that fades, and he again looks like a decent third-line center, then I think he slides down 5-7 slots.
Valentin Zykov and Nicolas Roy are affected (too much?) by my bias toward speed and skating ability. Almost everyone I talk to is much higher on both players. Victor Rask is proof that raw speed is not everything, but I still think it is tough sledding for players who are average at best in terms of mobility.
Aleksi Saarela is a wild card. With no appearance in Raleigh yet, I admittedly do not have a good read on him. He seemingly could slot as high as #3 overall as another potential dynamic scorer but also out of the top 10 if he continues to have injury issues and does not prove to be a high-end scorer.
Eetu Luostarinen and Luke Martin both earned top 16 rankings primarily based on draft pedigree. That said, my first impressions for both were 'meh' at prospect camp.
If I had to pick one player to not just make the 2017-18 team but be a difference-maker offensively, it would be a tough call between Janne Kuokkanen and Julien Gauthier. Gauthier gets the edge for raw upside, but I think I would pick Kuokkanen simply because I think he looked more 'every shift ready' in prospect camp.
I really like the volume and quality of forward depth below #16. The Hurricanes have a number of promising players at forward who did not even make the cut.
The future is really, really bright!
The Monday Coffee Shop polls and discussion will similarly focus on the prospect pool, but feel free to also comment here if you wish.
Go Canes!