Our short series of articles submitted during the bye week continues today with an interesting look at hockey far, far away in a market significantly more untraditional than the southern United States.
———————————-
Submitted by @IronCaniac
I'm an attorney living in the Washington, DC area.  I first started following the Canes just before the start of the 2002 playoffs after my parents won tickets to a game at a work party raffle.  My family and I have been Caniacs ever since.  The Canes inspired me to learn to skate and play hockey, which culminated in winning a league championship with my university club team a few years ago.
——————————–
Recently, I took a vacation to Beijing, China, the home of the Kontinental Hockey League's newest expansion team, the Kunlun Red Star.  I wanted to attend a game because, as a fan of an NHL team in a nontraditional hockey market, I have a soft spot in my heart for efforts to grow the game in new places.  Also, as it turns out, the Beijing KHL team has some connections to the Carolina Hurricanes.
Ex-Canes in the "K"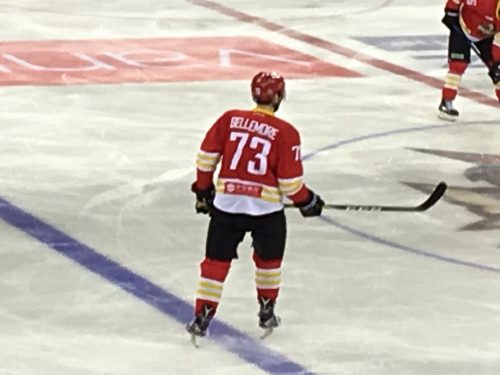 Serendipitously, two former Canes—Brett Bellemore and Alexei Ponikarovsky—are on the inaugural Kunlun roster.  After departing the Canes as a free agent during the 2015 offseason, Bellemore signed with the Red Star when he later was not able to crack the NHL lineup in the Rangers' and Bruins' systems.  He's been interviewed as saying that the chance to travel factored into his decision since he's never left North America prior to joining the team.  Ponikarovsky has been in the KHL a bit longer, leaving the NHL after the 2012-13 season.  
As of this writing, Bellemore has 4 goals and 11 assists in 56 games.  Ponikarovsky has 6 goals and 6 assists in 49 games.  Neither are the star players for Kunlun despite their NHL experience, but they're still solid contributors on a surprisingly competitive expansion team.  Interestingly, I noticed that Bellemore, a defenseman, plays in front of the net on power plays, a role I'm pretty sure the Canes had never asked him to serve.
Other former Canes currently playing in the KHL include Zach Boychuk, Michal Jordan, and (who could forget?) Alexander Semin. Former Checkers and Canes prospects Rasmus Rissanen, Oskar Osala, Marc-Andre Gragnani, and Evgeny Dadonov are also enjoying careers in the K.  In many ways, the KHL seems to offer players who couldn't make it or stick in the NHL a chance to keep playing hockey at a reasonably high level.  Therefore, as you'd expect, the quality of game play reflects that as it is slightly below NHL-caliber, but still quite entertaining.
Hockey Nights in China
Having attended hockey contests of just about every level, I would say that KHL games most closely resemble AHL games in terms of both game play and arena atmosphere.  The speed and skill level of the players make it so that you could easily mistake it for an NHL game.  Played on the wider ice surface of international-sized rinks, the transition game is noticeably a bit faster and more wide open.  Another difference I noticed was that defensemen and others who man the points seem to be way more willing to shoot than their NHL counterparts.
As for arena experience, there is relatively little fanfare when compared to NHL games.  An emcee periodically leads the crowd in chants of "Red Star! Go! Go!" on the PA.  The jumbotron is used mainly for replays and the occasional commercial.  There's no goal horn for when the home team scores, but there is a goal song, the patriotic "Red Star Shines" (no doubt chosen for the same reason the Canes chose "Rock You Like a Hurricane").  For concessions, there is a mix of both Western-style and Chinese snacks.  Pizza, chips, and popcorn can be found on the concourse alongside dumplings, meat skewers, and egg tarts.  By far, the biggest culture shock was that there is no alcohol sold in the arena (which apparently is just how it is at Chinese sporting events).  Overall, while there are a few reminders that you're not in the U.S. anymore, I found the experience very similar to attending a North American pro hockey game.
The Carolina Connection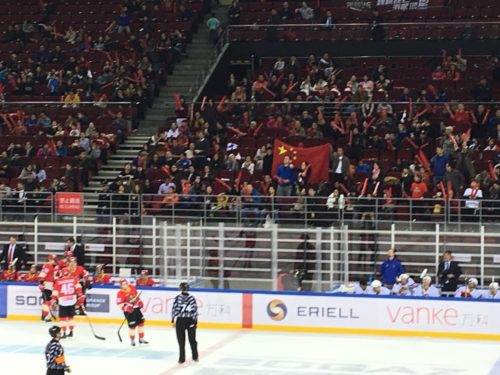 During game stoppages, I often found myself sitting back, looking around the arena, and comparing it with being at a Canes game. Because I had not yet arrived in the Raleigh area when the Canes first moved to North Carolina, I couldn't compare the excitement of seeing the Kunlun Red Star play during their first season to the feeling of watching the Canes' play during their NC debut.  I can only wonder if what I saw in Beijing resembled what games were like during Carolina's first season.   
Hockey in China is still a work in progress, but the fans in Beijing have taken notice of the high quality product on the ice.  Average attendance for Kunlun games is around 5,000 (on par with KHL and AHL averages).  To my surprise, many of people I talked to at the games were fairly knowledgeable about hockey.  I learned that most families in attendance had children who were playing hockey so they understood the rules.  Thus, despite Beijing being a nascent market for high level hockey, there is plenty to build on already.  Still, outside of the arena, there is virtually no advertisement of the team.  I'm guessing that since this is the team's first season, the ownership and management probably haven't yet figured out how to market the game to those who don't know what hockey is.  
This leads me to the reason for why I wanted to post this on Canes and Coffee.  It occurs to me that Caniacs would have quite a bit of firsthand experience when it comes to how a hockey team can generate interest in a nontraditional market.  Unfortunately, I can't speak to how the Canes were marketing themselves in those early years.  However, I know from the previous 'Reader Article' series that there are Caniacs here who go back to the Canes' inaugural seasons.  
So, in the spirit of Canes and Coffee, I'd like to start up a conversation:  what was the best thing the Canes did to sell the game during their early seasons?  More generally, what do you think was the most effective marketing effort or promotion the Canes have done ever?  
If you missed it over the weekend, check out also Michael Perlmutter's 'Reader Article' consider Faulk for Duchene but ultimately going a different direction.