The Carolina Hurricanes are turning into quite the trade thieves, especially at the deadline. This article was initially intended to study the trades of deadlines past, but then came the fresh news that Ron Hainsey was traded to the Pittsburgh Penguins. Now, we're still going to analyze how the trade deadline deals have affected the current Hurricanes makeup, but let's just gloat for a second, because yet-again we have fleeced a slightly desperate contending team.
For the convenient record, I agreed with Matt's recent take that Ron Hainsey was, at best, a 4th round value, and anything higher than that would be a win. Enter our former nemesis and new best friend Jim Rutherford. As GM of a team that is losing defensemen faster than Cam Ward loses his composure after a soft goal, Rutherford not only gave us a 2nd round pick, but also a (career AHL-level) player on top of that. We now have 10 picks in the upcoming 2017 draft and 6 in the first three rounds. Kudos, Ron Francis, kudos.
2016: Goodbye, Eric Staal
Of course, looking at Ron Francis' track record over recent deadlines, this fleecing should come as no surprise. Last year, given the departure of Eric Staal and the full commitment to the rebuild, turned out to be one of the most active Hurricanes deadlines in recent memory. Here's a quick recap, courtesy of NHLTradeTracker.com: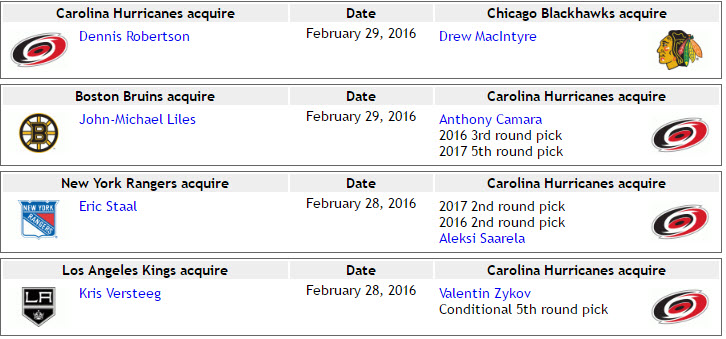 In 2016 we again saw Ron getting value out of a 35-year old defenseman. Let's see how the returns fared for John-Michael Liles:
Anthony Camara is no longer with the team. He was more of a throw-in anyway…
2016 3

rd 

round pick Jack LaFontaine. (LaFontaine has been playing decently this year in a goalie trio for a terrible Michigan Wolverines team that can't score. He leads that trio in save percentage, but isn't getting really consistent ice time.)
2017 5

th

 rounder TBD.
For losing out on a half season of Liles, that's an acceptable return. Skipping down to Versteeg, the return there was:
Valentin Zykov, who has had a decent year in the AHL, but still doesn't appear NHL ready as yet.
Conditional 2016 5

th

 rounder that never happened because the Kings didn't make the Western Conference Finals (oh well, we got Gauthier instead.)
Now we come to the Captain, Eric Staal…..and it's really hard to evaluate this trade, mainly because we still don't know how the returns will play out. Staal did terribly in New York post-trade, but then signed with the Wild, and somehow found his #1 C status again. In return, the Hurricanes got:
Aleksi Saarela (Hiding somewhere in Finland. He has 20 points in 40 games for Lukko Rauma. He might could be good??)
A 2016 2

nd

: Flipped to Chicago along with their own 2017 3rd for Teravainen and Bickell
A 2017 2

nd

: TBD
So in sum, the 2016 deadline saw us say goodbye to Liles, Versteeg and Staal, while saying hello to LaFontaine, Saarela, Zykov, and (a couple months down the road) Teravainen and Bickell, with two draft picks (2nd and 5th) still to go. Not a bad haul, but the jury is still out.
2015: Getting ALL the Draft Picks
So let's go to 2015, and here we are again, watching Ron Francis ship out a bunch of expensive veterans for futures, though I like this haul way better than 2016. Just my personal opinion
For the aging, less-than-effective Tim Gleason, Ron got back:
Jack Hillen (3 games as a Hurricane before retiring)
A 2015 4

th

 rounder (Callum Booth) Ron Francis really likes getting his goalie prospects with these extra picks…..I can't say that I blame him.
Jiri Tlusty ended up playing 50 more games after being traded and actually got cut by the Colorado Avalanche before the beginning of the season. What did we get for him?:
2015 6

th 

round pick (David Cotton) Cotton has stepped up his offensive game for BC this year, so maybe he turns into something, we still don't know.
2016 3

rd

 round pick (Matt Filipe) Slow start to his freshman year at Northeastern, but still shows promise.
Of course there's Andrej Sekera. Sekera, who was going to become a free agent and likely leave the Hurricanes that off-season, is still top-pairing D-man for the Oilers. Skating alongside Adam Larsson (a.k.a. Taylor Hall's trade buddy), he's still playing well and a hell of a lot richer to boot. The return for him doesn't require a bulleted list.
We got Roland McKeown and Julien Gauthier.
This trade could end up turning into a gold mine for the Hurricanes, or it could fizzle out and take our depth along with it. As of right now, however, that's a very promising return, and one which will hopefully pay dividends in Raleigh very soon. To sum up the 2015, we lost Gleason, Tlusty and Sekera. We brought in McKeown, Gauthier, Booth, Cotton and Filipe. If only two of those 5 develop into serviceable NHLers, given the non-impact of the traded entities (save Sekera) I still call that a major win.
2014: Ron's First Deadline was Lame
2014 will be a much shorter paragraph, because we only made two trades remotely close to the deadline.

I forgot that for a while there, Gleason was the gift that kept on giving, more off the ice than on. We ended up getting Liles, who as established, we got many prospects for, and got to trade Gleason again the next year. I like Tim Gleason more now. We also traded fan favorite Tuomo Ruutu. Ruutu ended up playing 120 games for the Devils and is now playing in Finland against Saarela among many others. The return for Ruutu was one of the more underwhelming ones:
Loktionov played 20 games for the Canes before not being qualified and going back home to the KHL.
Conditional 2017 3

rd:

 So nobody knows the conditions, or if we actually get this pick, but if we do, yay free prospects!
That said, this deadline was boring and does not warrant a summary. Moving on.
So that wraps up the trade deadlines under Ron Francis. Going earlier than that means entering into Jim Rutherford trade territory. Please take my word when I tell you, as someone who did much more research than just these last three years, looking at that will just depress you. He very nearly gave Justin Williams away. Trust me, don't do it.
The Overview: Much Still to Be Determined
As it stands right now, over this deadline and the three preceding, here's how the Hurricanes have made out overall:
Lost: Ron Hainsey, Eric Staal, Kris Versteeg, John-Michael Liles, Tim Gleason (twice), Andrej Sekera, Jiri Tlusty and Tuomo Ruutu
Gained (Only those still with the team): Roland McKeown, Julien Gauthier, Valentin Zykov, Matt Filipe, David Cotton, Callum Booth, Jack LaFontaine, Alexei Saarela, 3-4 more 2017 picks (two 2nds, maybe a 3rd and a 5th), and the pick that got us Teuvo Teravainen and Brian Bickell.
This leaves a lot yet to be determined, as only Teravainen has truly made an impact for the Hurricanes so far, but instead of that aging core of serviceable veterans, we have a bounty of young prospects pointing to an uncertain future, which admittedly could fizzle, but also could be extremely bright indeed. The 'What have you done for me lately?' fans among you may not be impressed, though this writer believes you should be. If just just 2-3 of those players turn out to be NHL regulars for the Hurricanes, that's a solid win as a return for veterans that we may or may not have lost anyway (nearly half of whom are out of the NHL already). Yet this still isn't over.
More Picks, More Picks, More Picks!!!
As Matt wrote yesterday, we still have McClement, Stalberg, Murphy, and possibly even Stempniak, all available for trade, and I highly doubt many Canes fans would shed tears if they were. I agree with most of his valuations, so there is no point in doing it again, but that's still a possibility of 4+ more picks to hand over to our stellar scouting department. And that's assuming Ron doesn't work more Hainsey-esque trade magic. Some of you may still be holding on to that pipe dream of the playoffs, or are stacking 8 years of futility all at the feet of Ron Francis (and I can't fault you) but it was never realistic. For those who accepted early on that we likely weren't going to make it in this year's Metropolitan (hand raised), this foundation has to be super exciting. Not only do we have an outstanding defensive foundation to build on, but we have an impressive number of picks and prospects to boot. Some of them will pan out, and some will likely be included in some blockbuster deal down the road for the scorer to put us over the top. Now if we could only find a second goalie…
Irrelevant Comment on Defensive Value
P.S. Given the recent value of mediocre or aging defensemen these days, I'm not cool with giving away any of Faulk, Slavin, Pesce or Hanifin for anything less than Matt Duchene AND a 1st round pick. And two boxes of Tim Horton's doughnuts. I'm only slightly joking.
Bring on the reasons I should be less excited than I am. Thanks for reading.