It's funny that when you type in "Sebastian Aho" in Google, the Wikipedia page still shows the picture of the 'other' Sebastian Aho. Yes, there are actually two of them. The other Aho, a Swede, is also a diminuative hockey player, a fast-skating offensive defensemen who was never drafted. But only one Aho is driving the Carolina Hurricanes offense right now, and setting himself up as one of the best non-1st round picks in recent memory. This one hails from Finland.
Unless you're committed to living under a rock until the Hurricanes return to playoff contention (which is still perfectly understandable) you already know a lot about Li'l Sebastian "Seabass" Aho. His teammates certainly do. In a recent Michael Smith article, Elias Lindholm said, "We all know how skilled he is. It's fun to watch him out there." He's received similar compliments of late from the likes of Jordan Staal, and the guy that drafted him, Ron Francis. Even around the league, he's starting to gain notice. That same Michael Smith article quoted Bill Peters as saying, "There's a couple of times when he's been leaving the ice and skating by guys and you can see they're looking at the number and the name, saying 'Who is this kid?'" That kid is Sebastian Aho, and he's serving notice that Raleigh might have another star on its hands.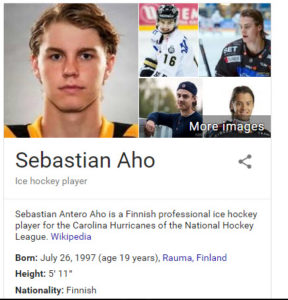 In an NHL loaded with quality rookies, Aho sits a modest 6th among first-year skaters with 32 points, scoring a 3rd best 17 goals. His recent spurt has also seen him pass Victor Rask for 2nd on the Hurricanes in points, despite seeing nearly two minutes less ice time a game. These numbers don't scream elite NHL scorer yet, but when it comes to the Finnish Flare, Hurricanes fans should be getting very, very excited. This article will show you exactly why Sebastian Aho is one of the most impressive young skaters in the NHL today, as well as discuss what he'll need to do to reach that elite level that many think he's capable of.
Sebastian Aho: Top-10 Talent with a 2nd Round Pick
Currently, Aho sits behind Mitch Marner, Austin Matthews, Patrick Laine, William Nylander and Matthew Tkachuk in rookie scoring. Nylander was the lowest draft pick of those five (8th overall in 2014). Ron Francis found Aho at 35th overall in 2015. In we look at the 2015 draft class alone, Aho sits 5th overall in scoring. The list goes McDavid (1st overall), Eichel (2nd), Marner (4th), Hanifin (5th) and then Aho. Maybe this doesn't seem like such a big deal, until you take a longer-term view of the performance of non-1st rounders, like Aho, and you realize how truly rare Aho's performance is.
Later Round Picks Don't Usually Pan Out
In the last four drafts (2013-16) there have been 700+ players that were drafted after the first round. Aho sits 3rd among those players in ­all-time scoring. In just over half a season. The list goes like this:
Granted, this list does not include the plethora of talented players that have gone in the 1st round of those years (names like McDavid, MacKinnon, Monahan, etc.), but if we're looking at on-ice returns compared to where they were drafted, Aho may well statistically deliver the best value of any player in the last 5 years. This even more impressive when you consider Aho's learning curve this season (He didn't score a goal until his 14th game, and only had 5 goals through his first 30 games.)
Key Note: This kid doesn't turn 20 until June, folks. Jaromir Jagr had 3 All-Star appearances and a Hart Trophy by the time Aho was born.
Playing in the NHL Before Legal Drinking Age
Plenty of rookies make major impacts in their first season. Further, there are several star skaters in this league that were low-level draft picks (Jamie Benn, 129th overall in 2008 by DAL is the current shining example of draft thievery). Extremely few, however, have had such an impact, at such a young age (< 20), so soon after they were drafted in the later rounds. And usually those players are ridiculously big. The most prominent examples of these players include
Ryan O'Reilly– Drafted 33

rd

 overall by COL in 2009, 52 points through age 18 & 19 seasons, 6'1", 210 lbs.
Milan Lucic– Drafted 50

th

 overall by BOS in 2006, 27 points in age 19 season. 6'3", 233 lbs.
Patrice Bergeron– Drafted 45

th

 overall by BOS in 2003, 39 points in age 18 season. 6'1, 195 lbs.
All three of those players have found NHL success centered around solid two-way games. To find lower round draft picks, that have the offensive impact that Aho has had before they enter their third decade…it simply does not happen. What Sebastian Aho is doing, while not to be confused with the impacts of generational talents, is almost unheard of in the past 20 years of NHL history. Looking at the higher-level NHL skaters of Aho-esque stature and draft position, we see names like:
Nikita Kucherov– Drafted 58

th

 by TB in 2011, 18 points in age 20 season, 65 in age 21 season. 5'11, 178
Andrew Shaw– Drafted 139

th

 by CHI in 2011, 23 points in age 20 season, 5'11, 179
And Anthony Duclair again- 7 points in age 19 season, 44 points in age 20 season, 5'11, 185
Where will Sebastian Aho Go From Here?
How do we use these examples to determine how Aho is going to progress? Well, unfortunately we really don't. Benn is elite, Kucherov and Bergeron have also excelled, and Lucic, Shaw and O'Reilly all plateaued as legitimate Top 6-9 forwards. Duclair seems to have regressed, but that might also just be Arizona. Aho could end up following any one of those tracks, and given his stature, injury will always be a concern (see Skinner, Jeff) Still, it has been proven beyond doubt that Aho's hockey IQ is absolutely exceptional, so if he stays on the ice, I see another player that might be an apt comparison for Sebastian's future.
Canes fans….Sebastian Aho is going to be gooooooooood. https://t.co/lENGJwUCGW … #Redvolution #WorldCupofHockey

— Cory Fogg (@coryfogg) September 15, 2016
An All-Time Comparison: Ray Whitney
When our fearless leader, Matt, compared Sebastian Aho to former Hurricane scorer Ray Whitney, I was a bit skeptical. Ray Whitney had an epic career in the NHL, spanning parts of 22 seasons, scoring over 1000 NHL points. Aho's a rookie who, at the time, hadn't hit his recent goal binge. Might be a bit too soon to make that comparison. Yet, while that is absolutely true, it's also 100% true that their styles of heady, playmaking hockey are very similar and that Aho has already exceeded Whitney in some ways. Whitney didn't have his breakout year until his age 21 season, scoring 40 points in 61 games for the Sharks. Whitney did have some growing pains (literally, he hit an injury bug in his third and fourth years) but by age 25 he had developed into a consistent 60-80 points-a-season scorer for the remainder of his career. I believe Aho absolutely has the skill to reach this level. I personally think he has the skill to surpass this level as well, but if he manages to hit Whitney level, every Raleigh-ite should be ecstatic for our hockey future.
The Sky (Injury) is the Limit for Sebastian Aho in Raleigh
One tidbit I heard while listening to the Aftermath of the Dallas Stars debacle, where Aho was one of the only bright spots, shared that Sebastian was starting to see increased focus from the other team's defense and….'bigger' folk. This will always happen, as Jeff Skinner can also attest after his rookie year (Seriously, keep your head up dude), but in order to ensure that Aho can fully develop into the elite talent he can be, the Hurricanes need to step up and protect him. While I didn't watch the game, word on the street is that Jordan Staal was making efforts to do exactly that, but the Hurricanes don't exactly have a plethora of powerful players (who can also skate) to provide that protection. This is a primary reason why I believe Julien Gauthier would be a logical linemate for Aho, hopefully sooner rather than later. At 6'4", 225 with superior skating skills, he would be well placed to not only defend Aho, but to maximize his own killer shot with Aho's elite passing skills. It would not shock me at all if we see a top line of Gauthier, Aho, and (using the current roster) Lindholm a couple seasons from now, but that is purely my speculation.
In the meantime, Hurricanes fans should enjoy the talent that is Sebastian Aho. The Hurricanes may not make the playoffs this year, and the goalie situation may still have giant question marks dancing around it, but the young Finn's continued development should delight and dazzle fans for many seasons and playoff runs to come.  Stay healthy, Sebastian.