After receiving a shipment of coffee cups, we very nearly got sidetracked enough with Traverse City and preseason writing to back burner finally starting merchandise sales yet again. But after more than 2 years Canes and Coffee coffee cups are now available for sale.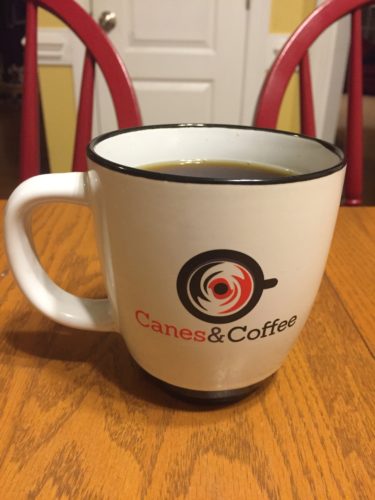 Why should you buy a Canes and Coffee coffee cup?
Here's why you should consider buying one for you and for every Caniac you know. Your purchase:
* Gets you a cool Canes-ish-looking coffee cup that you can show off.
* Fills an actual everyday need for drinking COFFEE!!!!
* (Insert sarcastic emoji) Is a collector's item as the first Canes and Coffee merchandise (NOT AVAILABLE IN STORES! WHILE SUPPLIES LAST! Etc…) that will certainly become a valuable item to be sold on EBay for a small fortune in 10 years.
The hope is to add something to the website that is a tiny bit smoother for taking orders, calculating shipping and sales tax, etc.
How much do they cost?
$12.50 + sales tax if in North Carolina + shipping & handling with a couple different options.
Total cost (see below) varies a little, but we would greatly appreciate anyone who generously rounds their purchase to an even $20. We promise to put the extra coffee money to good use with the 2017-18 season nearly upon us.
What if I contributed to either the original Kickstarter or the spring 2017 fundraiser?
If you contributed enough to pay for a coffee cup through either of the two fundraisers, we would love to get you a coffee cup as a small token of our appreciation.
Just fill out a comment form on our web page or send us a quick email with how best to get your coffee cup to you. Our email is canesandcoffee at gmail dot com (in normal email syntax without any dashes or spaces).
How do I place an order and receive my Canes and Coffee cup?
If you are in the United States and NOT North Carolina, follow the PayPal link at the bottom and pay $17.50 (includes $5.00 shipping and handling).
If you are in North Carolina and do not want to consider pickup options and prefer to have it shipped to you or possibly left on your door step by a local courier, follow the PayPal link at the bottom and pay $18.75 (includes $5.00 shipping and handling AND $1.25 North Carolina sales tax).
If you are local and are willing to consider pickup options (INCLUDING AT THE CANIAC CARNIVAL) that net you a free cup of coffee, help a small local business and save you $1 in the process, please follow the PayPal link at the bottom of the page and pay $17.50 and also see the instructions in the next section (includes $4.00 pickup fee and $1.00 North Carolina Sales tax). IMPORTANT: Please also complete this short survey, so we know how to get your cup to you.
We will take orders from at least Canada and hopefully elsewhere soon too but have not figured out the costs/logistics for that yet.
What are the delivery/pick up options? Free COFFEE!
If you are not local or are not willing to consider picking up your coffee cup, you can skip this section.
With the aim of helping a local business rather than throwing a few more $ to the shipping behemoths, our aim is to offer a couple local pickup options. One is ready to go and super convenient or people attending the Caniac Carnival, another for Southwest Wake County will hopefully be ready really soon and a couple more are in process without a definitive date.
If you will be attending the Caniac Carnival on Sunday, we highly recommend picking up your Canes and Coffee coffee cup there from our (how cool is this!) COFFEE PARTNER! Tenco Coffee which is one of the food trucks at the event.
It works like this:
1-You must order order and pay for your cup through Canes and Coffee paying $17.50.
2-Complete a really short survey just letting us know where you hope to pick up your coffee cup (remember that other local options are hopefully coming soon).
3-Receive a free cup of coffee when you pick up your cup. (That's where your shipping and handling goes instead of UPS or the post office.)
If you like the pickup option and free coffee but will not be at the Caniac Carnival and are not in a huge hurry, we hope to announce a few other local coffee shop pick up points in the next week or so.
Questions
Please use the web form on the site or email at canesandcoffee at gmail dot com (normal email syntax with no spaces or dashes) if you have any questions.
Thank you for generously supporting our coverage of Carolina Hurricanes hockey for the 2017-18 season and beyond!
Go Canes!