The hockey season, or at least the official preparation for it, kicked off in earnest Friday with the 1st set of practices for preseason. If you were busy at the end of last week and want to catch up, HERE is a menu of sorts for the training camp preview articles thus far.
Sunday September 20 is the annual Caniac Carnival which obviously has a big Canes hockey component to it (full game scrimmage this year) but also a bunch of family and foodie fun as well. For kids there should be the usual inflatable fun house level of bounce houses and other stuff. And the Caniac Carnival will also feature a great assortment of 15-16 food trucks.
Please skip below the ———– if you are just here for the hockey, but otherwise allow me to digress a bit and briefly take up a post as a "Food Critic for the Commoner." I would have no chance reviewing high-end stuff like grilled fish recipes, Tapas (to me that just means I have to eat 47 plates worth to get a meal) or other high end stuff. But if you want a passionate opinion burgers, pizza, fried stuff or other US commoner fare, I just might be qualified – or if not qualified at least incredibly passionate – nearly to the level that I am with Canes hockey.
So those who follow me on Twitter might have caught a food truck-related rant late at night earlier this week. It was truly a fit of brilliance. It started with simply hungry guy admiration for some of the options for Sunday. But it ended with me completely justifying eating 4 different things on Sunday without it being completely irresponsible. My starting point was again my commoner level of food expertise. For me, NOTHING is better than the food trucks that take the purest forms of commoner food that to many people seem limited an unimaginative, and from that base go true culinary genius.
So while I truly am a fan of any and all food trucks. They are basically the entrepreneurial start-up scene for the restaurant industry. What' s not to like about that? My theme to follow aims squarely at the most common of commoner food and the culinary brilliance that these trucks heap on top of it.
Here's how my suggested menu works:
1) You need to get there early enough to eat breakfast. Wrist bands for the autograph lines start at 10am, so that is perfect. Get there, grab a wrist band and then pick from either Barone Meatballs or American Meltdown for breakfast. No it's not pure breakfast food, but who cares. American Meltdown easily meets my theme. They make plain old boring grilled cheese sandwiches. But that is the absolute beauty of it. These things are anything but the Kraft plasticy cheese on regular white bread that you grew up with. See…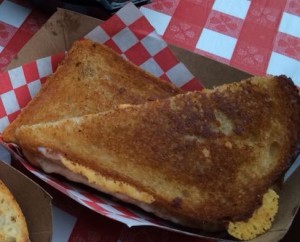 Barone Meatball takes another pretty basic food, meatballs, and goes crazy. They do actually have standardish Italian meat balls, but then they also have tinkered with Buffalo chicken, tuna and who knows what else since the menu features regular additions/changes.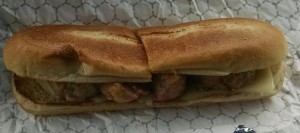 2) So after I basically told you to pick 1 of 2 options for breakfast, you are asking where my alleged genius is. I mean, I took a couple good food options and recommended them. But lunch is where my genius comes through. I did okay justifying 2 food truck choices but it gets better. You can actually do 4…wait for it…without any remorse about health issues or eating responsibility (only lying slightly there).
Here is how
You pick either the Barone Meatball sandwich or crazy cool American Meltdown grilled cheese sandwich that you did not have for breakfast as your entre. Then you add 2 sides. I know brilliant. It is perfectly acceptable to have side items with a meal. So how about this for following my commoner food theme…
Add a STUFT baked potato. What could be more boring and plain than a baked potato. Right? But anyone who has had STUFT knows otherwise. I do not want to go down that road again (nothing makes Twitter angrier than arguing what is and isn't a sandwich), but earlier this week I alleged that with the crazy good stuff puts on its potatoes, it was almost like a sandwich.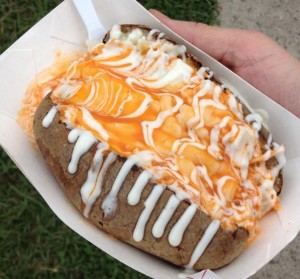 So once you have your baked potato side in tow, next you add another simpleton food – macaroni and cheese. I know you're thinking – I'm supposed to pony up for mac and cheese? But this IS NOT the Kraft mac & cheese from your childhood. It is the homemade, cheesy goodness mac and cheese from some ancient secret recipe. But wait it gets better. It has toppings. That's right – homemade mac and cheese with toppings!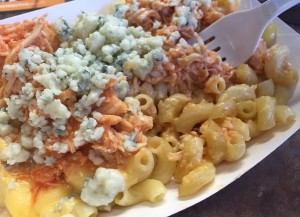 And that is the 2nd side item for your lunch. When it is all said and done, you will have managed 4 delicious food truck options all within the context of 2 reasonable meals. Sure your stomach might hurt mid-afternoon and your wallet will be a bit lighter, but let's be realistic, you were going to spend the same $8 out at some sit down restaurant for lunch on Monday or Tuesday for some incredibly boring sandwich. Eat a bit extra on Sunday and brown bag it on Tuesday. The restaurant start-up industry will thank you and will have a story in your pocket about the absolute best meat balls, grilled cheese sandwich, mac and cheese or baked potato you have ever had. It is this excellence that is the essence of the food truck industry.
If you happen to stop at any of the 4 food trucks mentioned above, please tell them that Matt from Canes and Coffee said 'hey'. This blog is NOT a paid endorsement, and my passion for food trucks is sincere. But in the name of full disclosure I am trading a bit of help with a couple of the food trucks at the Caniac Carnival.
I also suggest checking out Jason Neiberg's usual memorabilia table on the way into the seating for the scrimmage.  He should have 2015-16 season hockey cards already and maybe even some cards of the kids like Hanifin, Fleury, etc.
——————————————————————————————————-
Back to hockey…
The Red/White scrimmage will be the 1st chance to see many of the new Canes in action in a longer game-like situation. 2 of the 3 groups have had short scrimmages in each of the past 2 days but they were short and limited. Sunday will be an NHL regulation 60 minutes of hockey.
My focus will mostly be on watching to see if/how ready some of the new faces are to contribute in the 2015-16 season. It is no secret that there are a couple roster spots to be won both at forward and on defense in training camp, and this is the 1st big showcase for players to stake a claim for consideration. So my watch list for Sunday is focused almost exclusively on players who could play a role in these tryouts.
In no particular order:
1-Derek Ryan. He is a 28-year old rookie who brings a resume heavy on playmaking having led different European leagues in scoring each of the past 2 years. He is undersized and has not played North American hockey in some time. But he brings an offensive and playmaking skill set that the Canes need.
=>Does he look comfortable playing on a more crowded North American ice surface against bigger/faster players? Or does he look like he needs time in Charlotte to adjust?
2-Zach Boychuk. He has gradually amassed a decent amount of NHL experience and took a step up in terms of 2-way play last season to the point where he earned 31 games at the NHL level in a Bill Peters' system that requires accountability. It is very early in the process, but he did slot next to Eric Staal and Chris Terry on Friday, both of whom will play at the NHL level. He has been here before and knows the drill, the level of competition and the expectations.
=>Does he use his experience and aggressively seize a spot ahead of some of the other players who will be trying to dial up to the NHL level?
3-Sergey Tolchinsky. He was dynamic and highlight reel-worthy in July in the prospect camp. He was the Canes best offensive player at the prospect tourney in Traverse City. He has done everything that he can do against similar age/development level competition and excelled. But the NHL is a higher level.
=> Can he quickly translate his game to the higher NHL level and just let his skill take over? Or will he require some time to adjust step-by-step with some time in Charlotte 1st? Sunday will be the 1st clue as to the answer to this question.
4-Brock McGinn. Schedule and draft pedigree-wise, he might be the player most on target age-wise to step up this season. He had a lights out 2013-14 junior season, but in training camp last summer just was not ready for the NHL. He now has another year of development and a full season in the AHL, and there are roster spots to be won.
=>Is Brock McGinn ready to take a big step up from the AHL, or is he on a bit slower track to the NHL that requires more seasoning in the AHL?
5-Noah Hanifin. There is no questioning that he has elite potential. And regardless of how he plays on Sunday, that will not change. But as an 18-year old trying to step up from college hockey, it is a big jump in terms of level of play.
=>Is Hanifin so physically skilled that he can quickly adjust and be a difference-maker at the NHL level like #1 pick in 2014 Aaron Ekblad? Or will it take the more normal 2-3 years for him to reach that level?
6-Haydn Fleury. He has been the defenseman equivalent of Sergey Tolchinsky. He looked better and more assertive and skilled carrying the puck in prospect camp in July. He led the Canes blue line at the Traverse City prospects tourney with 6 assists and a plus 5 rating in 4 games. He has done all he can do against similar age competition this summer, and seems to be on a track to take a big step up against NHL players.
=>Is Fleury ready to make the big jump to the NHL? Or is he just dominant within his age group? Sunday provides the 1st clue as to the answer to that question.
7-Ryan Murphy. He is younger at 22 but is a little bit similar to Boychuk but a defenseman obviously. He played his remaining 2 years in juniors and has 2 mixed seasons of NHL/AHL experience since then. He is an elite skater easily with "offense-oriented 3rd pairing defenseman" potential if not more. But he has a pack of young defensemen now moving up behind him. He is looking at a 1-2 year window to carve out his role in the Canes lineup before he gets passed over. 
=>Can Ryan Murphy leverage his past 2 years developing at the AHL and NHL and put it all together and seize a roster spot for 2015-16? If not, might Ron Francis consider moving him to a team that needs more blue line help to net a similar age/skill prospect at forward where the Canes are lighter.
8-Jaccob Slavin, Trevor Carrick, Brett Pesce, Roland McKeown. This group of young defensemen sits behind Hanifin and Fleury. They are all tracking toward being NHL players, but of the group only Carrick even has AHL experience. Training camp will be a measuring stick for how close these players are to NHL ready, what specifically they need to work on and how they rate against each other.
=>Which of these players look most comfortable at NHL (or at least near NHL) speed? Do any stand out as closer to ready?
9-Danny Biega, Keegan Lowe, Rasmus Rissanen. This group of older defense prospects must hear footsteps coming with the herd of young defensemen behind them. They need to carve out roles at least as useful NHL depth defensemen pretty quickly or otherwise risk the fate of Dennis Robertson who was traded away.
=>Can these players use their deeper experience to prove that they are ready for the NHL now and then use this opportunity to dig their feet in as an NHL defender before the kids arrive over the next few years? Or are we likely to see 1 or more of them traded to free ice time for the promising kids.
10-James Wisniewski and Kris Versteeg. My list of "what to watch" for the Red/White scrimmage is heavy on youth and players battling for roster spots, but I also want to see how new veterans Kris Versteeg and James Wisniewski fit in. My optimistic hope is that both players bring a bit more playmaking that leads to more quality scoring chances.
=>Do Wisniewski and Versteeg look capable of providing a bit of a playmaking spark that increases offense across the entire offense?
Thrilled to have hockey this weekend!
Go Canes!