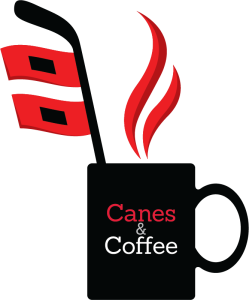 Right now, the Carolina Hurricanes actually have a couple openings at forward and could seemingly use another wing too.  But when I build a set of forward lines, my starting point is always trying to slot four centers.
Right now at center, I think the definites are like this:
C1 or C2: Jordan Staal
C2 or C3: Victor Rask
C4: Jay McClement
I view Jordan Staal as a good C2 to anchor your workhorse/defensive line.  In the NHL, both of a team's top two lines must score, but assignment-wise this line gets tasked with playing as many minutes as possible against the other team's best line.  This is the role that Rod Brind'Amour excelled at, and Jordan Staal is a similar type of player.  Ideally, I think you want to complement this Jordan Staal line with one that is a bit more focused on scoring.  So on the good Canes teams of years past, this was Stillman/EStaal/Cole in 2005-06 and Kapanen/Francis/O'Neill in 2001-02 with Brind'Amour anchoring the second line in both cases.  (Note that in both years Brind'Amour's line ate up the hard matchup minutes but also scored.)
I really like Victor Rask.  His jump from mostly off the radar to being a solid around center thrust into some difficult matchups and minutes when Jordan Staal was felled by injury was impressive.  He projects to grow into a bigger role long-term, but looking at actual results not projections he just was not much of a creator offensively and was a bit light scoring-wise for his role/minutes in 2014-15.  I think the skill set is there for this to be the next step up for him, but I really like the idea of slotting him as a great C3 and counting any offensive jump as a bonus.  That is what happens on good teams.  Good young players get pushed down a bit by roster depth such that when young players step up to another level, the team is suddenly real deep on offense.  Ideal for me would be to at least start Victor Rask in the C3 slot.
Jay McClement had a very good 2014-15 (importantly) when he was in the right role as a good C4 who was reliable defensively, great on the penalty kill and able to provide a little bit of offense on occasion.  He struggled a bit when overslotted due to injuries in the C3 slot which is to say that he is really good at what he does well but not so much a player who you can bump up the depth chart for an extended period of time.
So when I slot it, I have three center slots filled and prefer to leave the opening on one of the first two lines and bump Rask to the 3rd line.
So that raises the question – Who is the last center?  The Canes have multiple options here:
Eric Staal: Historically, this is exactly where Eric Staal has played and generally played pretty well.  Coach Bill Peters went a different direction and paired Eric and Jordan most of the second half of the year once Jordan returned from injury.  The duo and line was decent, but both players came up a bit short (like seemingly the whole team) on raw scoring productivity.
In looking back on 2014-15 and what we saw, I question whether this is a great fit.  Historically, Eric Staal is more of a finisher than a playmaker.  His best scoring years came when paired with a playmaking wing (first Cory Stillman, then Ray Whitney, then briefly with Alexander Semin).  That is not at all Jordan Staal's primary skill set.  And when you look at Jordan, I think his strength in terms of scoring is going to the front of the net.  He too might benefit from more playmaking on his wing.  Could Elias Lindholm bring a playmaking element from wing to get the puck on both Staals' sticks on a 1st line?  I think that is possible.  But I think another possibility is to separate the Staals, put Eric back in his natural center position and give him some playmaking help.
Elias Lindholm: He was originally drafted as a center.  The team has said here and there that he might move back to center.  Based on the fact that he played almost exclusively right wing when Coach Bill Peters had tinkering time last March and April, moving Lindholm back to center does not seem to be plan A.  If it was, one would think that Peters would have given this a sizable trial run last spring.  This said, training camp presents another chunk of free tinkering time, so maybe Peters will adjust course after a summer to digest the 2014-15 campaign.  What I like most about Lindholm is how he reads and thinks the game.  He is a smart player especially for his age and does have some playmaking ability.  Could he be a good all-around center with enough playmaking ability to feed a goal scoring wing like Jeff Skinner or Eric Staal?  Though there would be an adjustment in moving back to center, it is definitely within the realm of possible.
Riley Nash: He was very good in the exact C2 role that the Canes are looking to fill for roughly the first quarter of the 2014-15 season when Jordan Staal was out with injury.  He faded a bit as the season wore on and was kind of lost in the line and roster shuffling during the second half of the season.  Along the way, he grew to become a solid checking line center with a role in the Canes surge on penalty kill.  I really like Riley Nash as a 4th-line center with the ability to fill in higher on the roster and do not think a C3 role is too much for him.  The problem is that both of those slots are filled how I draw it up, and I am not sure he brings enough offensively to play in the top six.  At his price, I think he is valuable depth but maybe not the ideal answer for how to fill four center slots.
A free agent signing or trade: There are a few options floating around in free agency who would seemingly be cheap at this point in the free agent shopping season.  Derek Roy had a decent season in Edmonton and jumpstarted Gabriel Nail's scoring last season.  Could he do similar with Eric Staal or Jeff Skinner on his wing.  He also brings the flexibility of moving to wing if Peters tinkers and wants to shuffle differently given the options above.  Matt Cullen is now 38 years old, but he is still has above average wheels for 14-16 minutes per night and brings a bunch of flexibility in terms of style of play/line and even position (could move to left wing).  The number of options expands if you consider trade options.
I hope to put up a poll later today to see what everyone else thinks about how best to fill out that last center slot.
Go Canes!