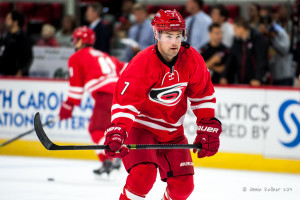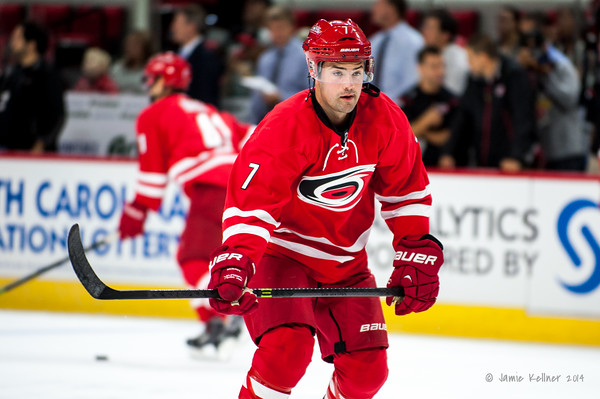 Fairly recently, Ryan Murphy would have rated as the Carolina Hurricanes top prospect from a system that was light on high potential defenseman.  Fast forward a couple years and things have changed significantly.  In consecutive drafts, the Canes have taken a defenseman with a high first round pick getting Haydn Fleury at #7 in 2014 and Noah Hanifin at #5 in 2015.  And along the way a couple other skating, puck-moving defensemen drafted a bit later have progressed well.  The result is Jaccob Slavin, Trevor Carrick, Brett Pesce and Roland McKeown bring additional options closer to the NHL level.  As a Canes fan, I am thrilled with sudden volume and quality of the potential of the defensemen now in the system.  The key word is potential.  Of the group only Trevor Carrick has any significant AHL experience (couple others have 1-4 games at tail end of season), and combined they have exactly zero games experience at the NHL level.  Because of the elite talent level of Hanifin and Fleury, it is possible that they just Ekblad their way into the NHL and look surprisingly ready despite lack of experience.  But that is not the norm.  The norm is a gradual progression that sees a few of these players grow to be good NHL players, but in 2-3 years.
So in a nutshell, you could generalize the group as very high on potential but incredibly light on any real experience.
Then there is Ryan Murphy.  He is suddenly old news, but at least in terms of experience, the defenseman who has more worked his way toward being ready for the NHL in 2015-16 versus being parachuted into it.  Murphy has logged 89 games at the NHL level and another 50 in the AHL over the past two years.  He has seen stints in the NHL followed by time back in Charlotte to refine and build out his game.  He has demonstrated his skating and ability to rush the puck up the ice that made him a first round draft pick in 2011 but also the weaknesses in his game at the NHL level.
Now with two years of experience at a higher level, could he be the young defenseman ready to put it all together and become a difference-maker at the NHL level?
I think it is possible with reservations that recognize his skill set and deficiencies.  My mantra this summer for the NHL is "skating above all else."  And in this world Ryan Murphy has elite potential.  I hope to be surprised, but I do not yet view him as a top 4 NHL defenseman in the NHL.  Rather, I view him as a very good 3rd pairing player who brings pace, offense and scoring chances from the back end.  Of course it would be great if he could develop even further and seize a top 4 role, but his ability to help the Canes offensively even from a bit more limited role should not be unappreciated.
With all of the new kids in town this September and the "future young stars on defense" making the blue line depth chart much more competitive, I will be curious to see Murphy's reaction and how he looks in September after another full season to mature.
Go Canes!