If you appreciated the near daily Hurricanes hockey during the offseason and an even faster pace during the regular season, we ask you to please help our cause by purchasing a Canes and Coffee coffee cup.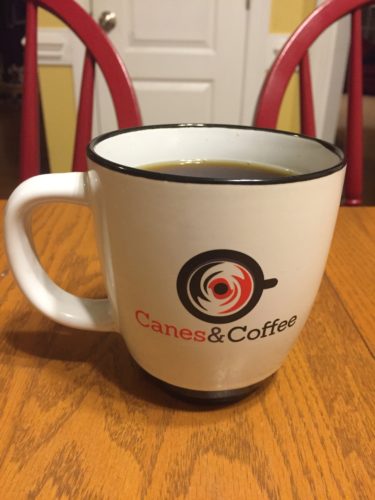 Two options exist to support the site and also net a nice Canes hockey collectible:
1) Simply make a donation to our "Coffee Fund" via credit card and/PayPal for $17.50 if outside of North Carolina or $18.75 if inside North Carolina (includes sales tax), and include your address in the notes or a separate email, and we will get a cup in the mail. The link to do so is here.
2) If you are local to Raleigh, you can purchase a Canes and Coffee Cup for the same price from coffee food truck Tenco and help a small local business in the process. $17.50 nets you a Canes and Coffee cup AND a free cup of coffee (we pay our delivery fee to Tenco instead of USPS in this case and support a local business in the process). Tenco's web site with upcoming schedule is HERE.
For previous donors and those who have been waiting on their Canes and Coffee coffee cups, I apologize for the delay. I hit a perfect storm with the start of the Hurricanes season and a few things with work and life that had me just trying to keep my head above water for a couple weeks. The good news is that the last couple coffee cup orders will go out Tuesday and/or Wednesday.
---
Back on August 7, I finished up a series of articles on the Hurricanes prospect pool by taking a shot at ranking the Hurricanes' prospect pool.
I am generally not a fan of ranking prospects simply because it feels a bit like grading a big project when it is only halfway completed. More significant than where these players are at a point in time is how much and how rapidly they will progress from there and where their ceiling ultimately lies.
But it was August and as imperfect as any prospect ranking project is, it does provide a platform for providing an update on the future of the team.
Today's Daily Cup of Joe offers a re-evaluation of sorts following the Traverse City tourney, training camp and preseason which provide a nice set of game and/or game-like play for further evaluation.
Below are some general thoughts followed by a re-ranking
Rising
Martin Necas easily takes the prize as the player whose stock rose the most in preseason. He used the preseason to showcase his effortless skating ability that is easily NHL-ready, and he also showed 'puck on his stick' playmaking ability that is far ahead of his age.
Janne Kuokkanen rose up somewhat in the shadows of the headline-grabbing Necas with a solid training cap and preseason in which he played better as it wore on. I have been high on him since he looked dominant in the prospect camp in late June. Kuokkanen's physical skill set is high but maybe just a notch below a few other players which pushed him to #4 on my August list, but based on a bird in the hand (NHL readiness now) being worth two in the bush (unrealized potential), I think he has pulled ahead of a couple players who were drafted higher.
Somewhere along the way, I took to calling Lucas Wallmark the boring prospect. His goal scoring burst at the AHL level in the second half of the 2016-17 season was eye-opening, but I still am not sure that Wallmark's potential ceiling is as high as a few of the more dynamic players. Wallmark did not actually rise in the rankings, but he is worth noting because I think he demonstrated in training cap that he is NHL-ready. Purely in terms of NHL-readiness today, I would actually rate Wallmark slightly above Necas and Kuokkanen who are still at the NHL level. The issue with Wallmark was largely that there was no room at the center position.
Trevor Carrick played his way into NHL depth defenseman consideration in September and early October. My August rankings had a strong bias for younger prospects with high ceilings. As such, Trevor Carrick did not make my top 15. I do not view Carrick as more than a depth defenseman at the NHL level, but the importance of even depth defense roles was illustrated by how much the third pairing hurt the Hurricanes during the 2016-17 season. Because of what I see as a fairly low ceiling, I will not boost Carrick above the younger prospects, but I will give him what he earned and add him to the mix.
Haydn Fleury entered training camp as a front runner to win the sixth slot on the blue line. I am not sure winning that slot as expected so much boosted him, but I do think it is worth noting that he has lived up to expectations thus far.
Upside but still a work in progress
Julien Gauthier exits training camp still with his maximum 10 ceiling still intact. He had one strong preseason game toward the end in which he put his power forward skill set on display. However, the issue with Gauthier from my perspective is that he just does not make enough of a difference and/or be difficult to play against on the many shifts in between the highlights.
Jake Bean could be a capable power play point man at the NHL level today, and he could likely do okay learning on the job in terms of moving the puck up the ice. But from my viewpoint, Bean still is not there in terms of that all-important defense thing that leads in the "defenseman" position.
Roland McKeown had a decent training camp, but what jumps out about his game to me is that he just does not have the same physical skill set as the top young Hurricanes defensemen who are already at the NHL level. McKeown has a good stick defensively and generally good hockey sense which is a great starting point, but I view him more as a player who has work to do to become a capable NHLer than a player who projects to the NHL level with near certainty.
Most ready for the NHL
If I had to rank the prospects for NHL-readiness today, my top five would be Haydn Fleury, Lucas Wallmark, Janne Kuokkanen, Trevor Carrick and Warren Foegele. Martin Necas has a chance to stick at the NHL level simply because he has the potential to be so dynamic, but his game is not as well-rounded as a few of the older prospects.
Highest ceilings
If I had to rank prospects for having the highest potential ceilings if things work out, that ranking would be pretty similar to what I had in August except with Necas overtaking Gauthier. The top 5 would be Martin Necas, Julien Gauthier, Jake Bean, Janne Kuokkanen tied with Haydn Fleury and Aleksi Saarela as an honorable mention.
Wild cards
With the Hurricanes again seemingly being light on players whose natural instinct is to go to and stay at the front of the net, Valentin Zykov is interesting because he possesses that lacking skill set.
Warren Foegele who already has two shorthanded goals (and four total) in four games with the Checkers represents interesting scoring upside for the fourth line in the form of a player who also looks ready to handle NHL pace.
With the Hurricanes struggling to score out of the gate, Aleksi Saarela is interesting as the AHLer potentially most with a pure sniper skill set.
Updated rankings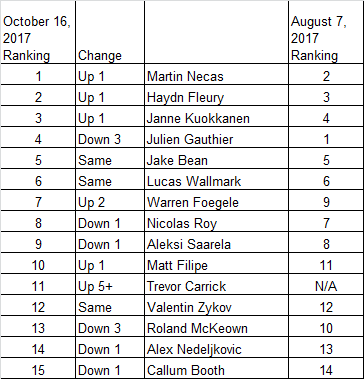 Note: Matt Filipe is the only player included from those who did not attend training camp by virtue of his strong rookie camp. As such, these rankings mainly focus on the players who are known quantities with a decent amount of ice time in Raleigh during prospect and training camps. The rankings do not try to do apples to oranges comparisons for the 2016 and 2017 draftees for whom we have had very limited live visibility.
What say you Caniacs?
With a decent amount of game action to watch these players over the past two months, who has different opinions on the individual players and rankings?
Go Canes!