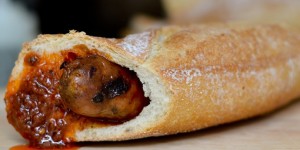 Why would you settle for a run of the mill hot dog or Italian sausage when you could get this at the NC State Fair from local food truck Baguettaboutit? (Hot Italian with tomato basil vinaigrette)
We are now 2 games into the Hurricanes annual North Carolina State Fair road trip which calls for an NC State Fair-themed Daily Cup of Joe.
After the way the 2014-15 season started (and ended for that matter), Canes fans enter the 2015-16 with frayed nerves and maybe even a bit of oversensitivity.  The 0-3 start that included a disappointing home opener in which the team seemed to deserve better followed immediately by a disappointing clunker versus Florida did nothing to ease anxiety.
That is the Mighty Mouse rollercoaster that is the life of a Canes fan these days, hopping aboard, hoping for the best but never really knowing what comes around the next turn or even when it is coming.
But if you can put yourself up in the Ferris wheel above the fray and looking down on the season in total, just maybe there is some perspective to be gained. The 0-3 start obviously was not good no matter how you slice it, but if you look at the road trip that started right after that, it is actually going well through 2 games.  Sure 2-0 is better than 1-1 but in a road back-to-back against 2 playoff teams, you easily take the 1-1.  If the Canes can match that point per game pace for the remaining 5 games of the road trip, it will be a huge success.
The goal for the road trip is not to go on a tear and make the playoffs. You cannot play your way into the playoffs in October, only out of them. The goal is to still be in the hunt when the trip concludes. That seems like a small thing to ask, but the Canes failed to do it last season after an 0-6-2 all but doomed the entirety of the 2014-15 season. The Canes returned from this road trip basically carrying the wheels that had come off in the process and leaving Canes fans feeling like they had just tried to do the trifecta of random fried things (1 dessert, 1 salty thing, and 1 thing you just ask "why?" on) and then given the Tilt-A-Whirl or some other "as fast as you can go in a circle" ride a twirl.
At some point, the Canes do need to make up for the 0-3 start, but I think short-term the goal is just to keep pushing through the long road trip collecting points.  If the Canes can collect 7 points for the 7 road games, they will return with a deficit in the standings, but it will still be a net positive that the hole is manageable.
The next stretch of 3 games sets up reasonably favorably but also with maybe the need to collect the 3 points sooner rather than later. First, the Canes get the Avs who lost only 2-1 but were dominated by the Kings on Sunday night. Then the Canes get a favorable match up with the Kings that sees the Kings play the night before and travel home. The 3-game middle part of the road trip finishes with the Canes playing another back-to-back against a rested team in San Jose. Best would be to get after it early and collect 3 points before the Saturday game.
This is clearly 1 of those stretches when the team needs to scratch, claw, steal or whatever else to get points and push forward.
---
Back to the state fair theme, here are my thoughts on the Carolina Hurricanes in NC State Fair items:
Brock McGinn
He is very much the deep fried Pop Tart. With his phenomenal debut, he is the newest, coolest Cane on the scene. The question is whether he has the staying power of the deep fried Oreos and Snickers that are a mainstay of the NC State Fair and certain to be there for years to come.
Justin Faulk
He is quickly becoming like the NC State Fair ice cream, a reason for going to the fair every year and worth the price of admission each and every year.
Eddie Lack
He is like the random midway magician/comic, juggler or maybe even the 'One Man Band'. He is just fun in a way where you should not take it all so seriously at least not all the time.
Canes fans
The die hards who ride it through thick and thin are very much playing the ring toss. Sadly, we do not seem to win often enough but whenever we do it has always been the massive "will the massive stuffed Spongebob even fit in the car?" size win.
Noah Hanifin
He is like when you go out on a limb and try something that is not part of your regular fair repertoire in hopes that you might find something else really good that can become part of your NC State Fair experience for years to come.
John Forslund
He would be a safe, sound and solid fair delicacy like kettle corn. You pretty much know what you are going to get, and it will be good.
Tripp Tracy
He is a bit riskier kind of like the random fried peanut butter pickle strange stuff that could work or could go horribly wrong.
I feel like I should have found a player for roasted turkey legs, roasted corn, the demolition derby, caramel or candy apples and a few other things, but that is the greatness of the NC State Fair – that you just cannot cover everything.
---
If you have already had enough of my fair yammering, save yourself now as I finish by offering my NC State Fair words to live by:
1) ALWAYS buy kettle corn and definitely do the crazy monster size bag, but NEVER buy kettle corn from someone who does not have the big kettle visible. If they are not making it right there, it does not count.
2) NOTHING is more seemingly possible but actually impossible than trying stick 1 lousy ring on a bottle. My family and I threw some number of thousands or rings at the ring toss on Friday and of course did not win. Not only did we not win, but we did not see anyone else win either.
3) Only buy French fries from a 'French fry hut.' If fries are all they are selling, they must be good. Equally importantly it assures that you are getting fries made 2-3 minutes ago, not 20.
4) If you have children, by all means torture them by making them walk through every possible educational type of exhibit there. It is is your right as a parent. Make them see farm animals of all varieties, art work, artisans, folk music, NC-grown produce, etc. It is their price for eating the fries, fried stuff, kettle corn and also making you waste $20 trying to stick rings on bottles when it is impossible.  It is also the only way to be at the fair for more than a couple hours without taking out a second mortgage.
5) If you happen upon them, please consider supporting local food trucks who are there. Baguettaboutit is on the West side of Dorton arena and Chick-N-Que is down toward the games/rides toward the far northeast corner of the fairgrounds. Tell them Matt from Canes and Coffee says 'hi.'
Go Canes!