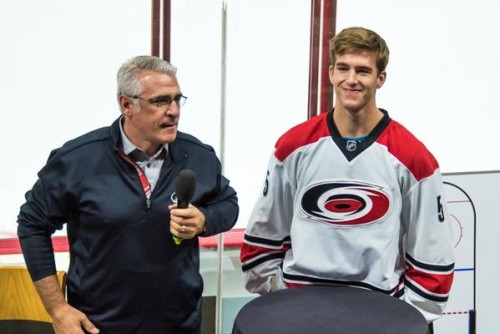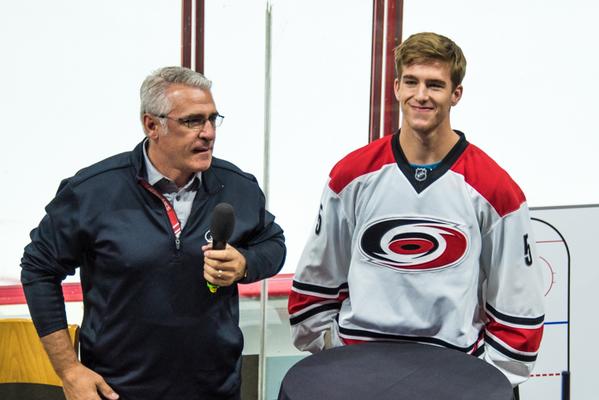 I spent the last three days of Daily Cup of Joe looking at what would be good next steps in their development for various young Canes and future Canes. All of these players have some track record in the organization and some time in training camp if not in the regular season.
But when talking about the future of the Canes and looking only at players who have seen a training camp, the unaddressed elephant in the room is Noah Hanifin. When the Canes drafted him #5 overall in the 2015 NHL draft, he immediately vaulted to the top of the Canes prospect list and became an exciting part of the Carolina Hurricanes future.
In September, he will obviously be making his first visit to the Carolina Hurricanes training camp. The long-term expectations for Noah Hanifin are huge, but what exactly does it mean for the 2015-16 season?
–Will he make the opening day roster?
–Is he ready for the NHL now or will it take some time?
–Where does he slot if he does make the team out of training camp?
I think the key is patience. Aaron Ekblad and his ability to step into the NHL seemingly as a first pairing defenseman did not do any favors for the top-tier blue line draftees that will follow him. But I think a defenseman draftee tour past Ekblad is important for setting realistic expectations. The 2nd defenseman taken in 2014 (Canes own Haydn Fleury at #7) stayed in Canadian juniors for his first season after being drafted. Seth Jones who was the 1st defenseman drafted in 2013 jumped straight to the NHL and was a decent second pairing defenseman in his first year on a Nashville team that was deep defensively. Darnell Nurse who was the 2nd defenseman drafted in 2013 at #7 played two more seasons in juniors and will push for NHL ice time this fall. The first two defenseman drafted in 2012 (Ryan Murray-Blue Jackets-#2 and Griffin Reinhart-Islanders-#4) have both played in the NHL but have not yet risen to an elite level. From 2011, Adam Larsson (drafted #4 overall by New Jersey) is on track but just now reaching his expected potential.  Dougie Hamilton (drafted #9 by Boston) rose to an elite level, but it took awhile.  He played most of the next two seasons in juniors (he did see time in Boston in 2012-13) and really did not emerge as an elite player until late in his third year or more so his fourth year after being drafted.
The survey of recently highly drafted defensemen suggest that it is possible for these players to break into the league at a pretty high level (Ekblad and Jones), but that it is not the norm (six others).  The good news is that most of these players have either reached a high level or seem to be on track to do so.  But immediately in most cases is asking too much too soon.
As soon as Hanifin steps on the ice (and before actually), people will start to project what his role will be in the 2015-16 season. And people will try to quickly assess where he is right now in terms of NHL-ready ability. And In training camp he is going to draw 'oohs' and 'ahhs' for his size and phenomenal skating ability for his age.   Regardless of how he looks in games and scrimmages this September that is a tremendous starting point for becoming a great NHL defenseman whether it is in 2015-16 or a few years later. And that is important to remember before heaping too many short-term expectations on Noah Hanifin
Personally, I have no idea where exactly he will be in September of 2015. The range is anywhere from Ekblad-ish ready to play in the NHL at a high level to he needs at least a full year in the AHL to round out his game at a higher level of competition. Either is fine. The key for me is that at a checkpoint about halfway into the 2015-16 he has improved from his starting point. This early checkpoint will show that he has the important ability to learn, be coached and develop which combined with his elite physical ability at a young age makes it very probable that he is on a path toward reaching an elite level which is ultimately the goal regardless of schedule.
Go Canes!