For anyone who missed it last week or as a reminder to those who did, Canes and Coffee will be turning the website over to readers and guest writers starting sometime next week. Here is your chance to write an article on the Carolina Hurricanes.
---
When Ron Francis was named the general manager of the Carolina Hurricanes following the 2013-14 season, the situation was a challenging one. The team had just finished 25th out of 30 teams in the NHL and had missed the playoffs for the fifth straight season. Francis' mantra from the very beginning was to build from within and establish organizational depth that would enable the team to not just return to the playoffs but also do so in a sustainable way that would yield regular playoff visits.
The transformation on defense and in net
The transformation that had to occur took form rapidly on the blue line when during the summer of 2015 Noah Hanifin was added in the 2015 draft and jumped straight to the NHL and was soon accompanied by Brett Pesce and Jaccob Slavin who more or less parachuted straight from NCAA hockey into the NHL and landed pretty quickly in top 4 roles.
In goal, Francis made an early attempt to shore up the position when he added Eddie Lack, but that move did not yield the hoped for results. Scott Darling represents a 'go for the best' second try to solidify the position.
A 2014-15 starting point light on top 9 talent at the forward position
Once the blue leaped forward ahead of schedule, the forward position became the longest path to improvement. The top 9 for the forward group to start the 2014-15 season included Nathan Gerbe, Chris Terry and Jiri Tlusty, none of who have since fallen below the NHL cut line. The top 9 also included Alexander Semin who was subsequently bought out and also a 19-year old Elias Lindholm who was entering his second season and arguably still in a bit over his head in an NHL top 9 role. We could debate a few players, but I think one could make a reasonably defensible case that the Hurricanes really only had four forwards in the top 9 who were not overslotted. Gerbe, Terry and Tlusty maybe were just overslotted. Lindholm was early. And Semin, for whatever reason, just did not work out. That leaves only Eric Staal, Jordan Staal, Jeff Skinner and a just-emerging Victor Rask.
Minimal immediate forward help in the system
The need for help in the top 9 at forward was not something that could quickly be filled by the prospect pool and system. Chris Terry, who is noted above, was the top prospect to emerge during a dry spell at the forward position. The Hurricanes did net Brandon Sutter, Jeff Skinner and Victor Rask in the five years of drafts from 2007 to 2011, but the next best forward drafted probably was 2014-15 NHLer Chris Terry.
A gradual transformation
The transformation that has taken place at the forward position from 2014-15 has been gradual and with a few instances of taking a step or two forward only to take another backward.
Here is how it has developed (Note: The aim is not so much to put players on actual lines or rank them but rather to fairly clearly show players moving out and new ones moving in over the three years since Francis took over as general manager. Gray indicates a change from the previous season.)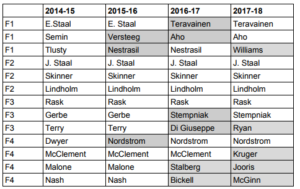 2014-15: Looking back to before Francis' tenure Francis added only depth forwards Jay McClement and Brad Malone to his first team in 2014-15.
2015-16: The changes to the 2015-16 roster were also modest. On the cheap, Francis added Kris Versteeg and Joakim together in an expensive salary camp dump deal. And Andrej Nestrasil who joined the team during the 2014-15 season was a new entry to the top 9 (my reference point is the beginning of each season).
2016-17: The 2016-17 season offered more significant changes but mostly in an offsetting manner as a few key players left and a few replacements arrived. When one looks only at the off-season, the addition of Teravainen, Stempniak and Aho for the top 9 and also a couple depth forwards in Stalberg and Bickell look like significant additions. But when offset against the loss of two-thirds of the top line from 2015-16 at the trade deadline when Eric Staal and Teuvo Teravainen departed, the net changes look more like two steps forward and two steps back. But when compared to the 2014-15 lineup, there appears to be a net gain in the top 9. Four holdovers of Jordan Staal, Jeff Skinner, Elias Lindholm and Victor Rask were joined by Teuvo Teravainen, Sebastian Aho and Lee Stempniak. My math counts a total of seven legitimate top 9 forwards in the lineup once Aho worked out immediately which is an increase of  two or three from the 2014-15 starting point.
2017-18: The only player that I would consider to be a pure top 9 addition for the 2017-18 season is Justin Williams, but three other things are worth noting. First is that the team did not lose any top forwards. Francis brokered a deal not to lose Lee Stempniak to the expansion draft, re-signed Derek Ryan and did not lose anyone else (pending re-signing of Phil Di Giuseppe who is qualified). Second is that Francis significantly upgraded what I am slating as a fourth line when it added Marcus Kruger to replace Jay McClement. Finally, by making additions without much for subtractions, the team became deeper with experienced NHL players like Brock McGinn, Phil Di Giuseppe, Derek Ryan, Josh Jooris and Joakim Nordstrom battling for only 2-3 open slots in the lineup.
Still maybe one short but with help on the way
I am on record as wanting one more offensive difference-maker to help boost the offense but by no means would I consider the situation dire. The Hurricanes did upgrade their top 9 with Justin Williams and also their fourth line and depth with Marcus Kruger and Josh Jooris. And needing to fill one top 9 slot internally is not impossible given a decent number of depth options and also a few higher-end wild cards in the prospect pool.
And the prospect pool is worth noting. The group of players with top 6 scoring potential is growing. All of Julien Gauthier, Aleksi Saarela, Janne Kuokkanen, and Martin Necas who were drafted either in the first or second round have NHL scoring potential. In addition, mid-round picks Nicolas Roy, Lucas Wallmark and Warren Foegele also have developed nicely.
Netting it out
As much as I would have liked to add one more top 6 scoring catalyst (which could still happen) specifically for 2017-18, broader analysis suggests that after starting from what I would call a deficit Francis has the forward part of the roster on track to realize his original goal of building from within soon.
What say you Canes fans?
Because it was completed gradually and without spending a ton of trade assets to a big trade, is Francis' steady transformation of the forward ranks maybe underrated?
Is it fair to say that the team's depth down to #12 or #13 on the forward depth chart the best it has been since the 2009 playoffs?
Go Canes!