For those checking in and looking to catch up, please see our chronological menus of clickable links for all articles for the 2017-18 roster building and also for the 2017 NHL Draft coverage series if you want to catch up.
Also, if you missed Thursday's excitement, I wrote a part 1 and a part 2 discussing the Hurricanes trade for defenseman Trevor van Riemsdyk.
---
In case you missed it yesterday, the big news was a trade for former-Blackhawks defenseman Trevor van Riemsdkyk. But in today's 'what have you done for me lately?' world, we are moving quickly to what's next.
An inside look at our advanced system work at Canes and Coffee
With wheeling and dealing season now in full swing with the unique expansion draft completed and the traditional NHL draft trade weekend now upon us, I figured I would take a quick look at Ron Francis' progress thus far using the highly sophisticated techniques used in our Canes and Coffee war room.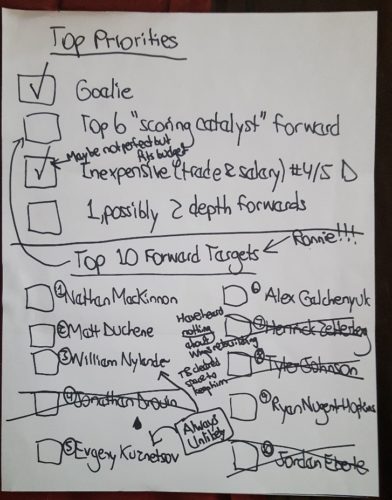 I wrote in some detail about the four priorities to kick off the whole summer series back on May 31. And the forward target list comes from a fairly detailed dive into player specifics on June 12.
Recognizing Francis' progress thus far
As one can see from our sophisticated system, Ron Francis has indeed made significant progress on our summer work list. He took out the goalie need very early, and just today he followed up by addressing a tricky need for depth on the blue line.
In trying to land a difference-making top 6 forward who can be an offensive catalyst, Francis does still have his toughest challenge sitting in front of him. But with hockey excitement scheduled to be at a fever pitch for the next few days and patience low, I think it is important to stop in advance of the draft weekend and recognize that Hurricanes general manager Ron Francis has made one big and one small move on the way to an improved 2017-18 roster.
That, in a word, is progress.
Reassessing the options and situation in terms of adding a difference-maker at forward
The target list has changed fairly significantly as diligently noted on our checklist.
Two players, Jonathan Drouin and Jordan Eberle, have been traded.
Because Tampa Bay has likely cleared enough salary in dealing Drouin and also Jason Garrison to make their math work, I also dropped Tyler Johnson from the list as he looks much less likely to be a cap casualty now.
Further, I am at least tentatively giving up on hope on Henrik Zetterberg who was a long shot from the beginning. Ironically, every knowledgeable Detroit Red Wings contract that I talk with actually thinks that Detroit should do a more aggressive rebuild (which is what it would take to free Zetterberg), but at the same time not a single one of them thinks that this is the route that the team will take.
In addition, both William Nylander and Evgeny Kuznetsov were long shots who might or might even be available at all just like Zetterberg. And especially with Francis offering some clues that he does not want to part with a top 4 defenseman, they are really unlikely.
In addition, though he still might be available, I think the departure of Eberle makes it more likely that Ryan Nugent-Hopkins stays as least through the 2017-18 season. As I wrote in a past article, I think most people underestimate his most common role on the Oilers. He is viewed by many (myself included) as a third line center on a team with two stud centers. But in reality, the Oilers playd much of the 2017-18 season with Connor McDavid and Leon Draisatl paired together and with Nugent-Hopkins leading a second line that took on an unglamorous but important role similar to Jordan Staal's marking the other teams' best players every night.
That leaves three who have stood the test of time.
Nathan MacKinnon was named as my top target on June 6 and also the only player for whom I have agreed to part with Noah Hanifin. Alex Galchenyuk was included on a short list with MacKinnon and the Oilers' duo on June 16. And Matt Duchene was figuratively speaking my first love when I first started hunting for a forward upgrade all the way back on January 4.
MacKinnon is the player who excites me most, but I continue to think that any of these three players could meet the need.
Will a deal happen (this weekend)? And what's the process?
On the one hand, the window between Thursday and Saturday represents the time period when Francis has the most value at his disposal to make a trade. He has already traded two extra draft picks but still has two more at his disposal. Those expire to some degree on Saturday morning when they must be either traded or converted to drafted prospects who might or might not match up to what trade partners want. So that situation suggests that there is incentive and a modest degree of urgency for Francis to do a deal by breakfast time on Saturday.
On the other hand, as we get deeper into this process without Francis doing a deal, it suggests to me that it will take even longer.
Here is why…The preferred return for many of the potential trade partners is thought to be an NHL-level top 4 defenseman. With four young top 4 defensemen on the roster, Francis has arguably the single best collection of players who could yield the forward he wants. This was true for a couple players (namely Colorado players) at the trade deadline and it has been true since the off-season started in earnest with the conclusion of the playoffs. And yet Francis has not done a deal. It is possible that the asking price is just too high in terms of what else is being requested as part of a package, but I also think that there is a high probability that Francis just does not want to do a deal that parts with a young top 4 defenseman.
That makes two reasons why a draft weekend deal that sees the Hurricanes add a top 6 forward is less probable. First, is that if I am right that Francis does not want to aggressively offer a top 4 defenseman, then I think he will be forced to wait out a game of musical chairs and chicken as the teams willing to trade top 4 defenseman try to pair up with teams willing to trade a top 6 forward. That could run through and past the weekend.
In addition, it is becoming less clear that there will be any seats left for teams wanting a top-end forward but not wanting to trade a top-end defenseman. A couple of forwards have come off the board already and none of the few defensemen potentially available have moved to make it happen. Eberle was a forward for forward trade, and Drouin netted a prospect defenseman and probably took Johnson off the board too in the process. Those results are not ideal for the Hurricanes because it shrinks the list of forwards potentially available without dipping into the defenseman pool.
So how does it end (at least this weekend)?
An important starting point is to recognize that all (or at least very close to all) of the deals that Francis has completed have mostly just fallen out of sky. So trying to follow a patter and a set of clues could very well prove to be fruitless, and it is not at all impossible that by Sunday Francis has added someone who was not even on the radar.
But saying that it is all completely random and that no one could possibly predict what Francis will do is boring and a waste of typing. So if I had to say, my bet is that Francis will not be able to do a deal for a top 6 forward this weekend. Instead, he will need to wait until more things settle out (or do not settle out) such that the teams looking to trade a forward start working their way farther down their priority lists and start considering lesser/different packages.
The fact that Colorado still has MacKinnon, Duchene and Landeskog in tow is interesting and potentially positive. After all of the noise and rumblings, I would be shocked to see the Avalanche enter the season with all three of those players on the roster. So just maybe if Avs general manager Joe Sakic is unable to get what he wants, he lowers his ask out of desperation to do something and a player falls right into Francis' lap.
By going on record as saying that a quiet draft trade-wise is quite possible for the Hurricanes, hopefully I will spur something to happen!
What say you Canes fans?
Do others agree with my logic that what we have seen thus far could be interpreted to mean that Francis is holding tight to his young defenseman? Or would you speculate that it is more a matter of trade demands finally lining up this weekend?
If there is not a deal to be had for a top 6 forward without trading a top 4 defenseman, would you be okay with pushing farther forward into the off-season and possibly shopping from a second tier of options with lower prices?
What are your odds that Nathan MacKinnon magically falls to the Canes at some point?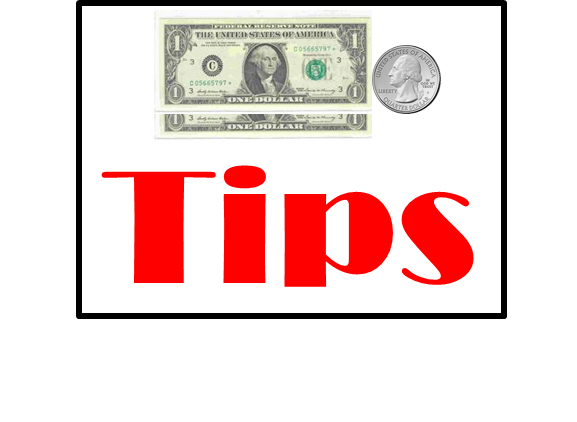 Go Canes!