As merciless as the hockey gods can be sometimes, they sure have a wicked sense of humor.
This summer I ventured out on a limb and talked myself into launching an independent hockey site for a small market team that has been struggling in the standings. The fact that this was a bad idea in terms of return on investment of time was irrelevant. From the start, it was a project of passion, commitment and trying to do my part to help the team and our Hurricanes community when we needed it most and also a bit of a personal challenge. But I still held out optimism as I always do that just maybe this year's team would rise up and surprise just like in 2005-06.
We are now within a game of the quarter mark of the 2015-16, and it obviously is not going well thus far. So in today's mail, I get something in the shape/weight of a magazine with some sticky paper over the cover that says 'free trial' or something similar. I peeled back the front page to see what it was, and here is what I found: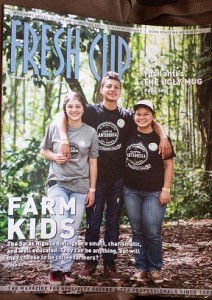 Basically, I guess by virtue of the business name Canes and Coffee, I made it into some database for coffee-focused businesses and now have a free 4-issue trial subscription to a niche coffee magazine.
My wife laughed and said that this was a clear reminder from the hockey gods that I had left myself an out and might want to consider deemphasizing the Canes and going much heavier on the Coffee until the team improved. I said, "No way! I just got a FREE! magazine subscription as compensation for the hours I have poured into this project over the past 4ish months. The hockey gods recognize my effort and good deed, are looking out for me and surely there is more on the way!"
More seriously, I have my times of frustration with this team as much as any other passionate fan especially walking out of PNC Arena after a disappointing game. But I still love having a professional hockey team right here in Raleigh, and I actually still love our team despite its struggles. And I will never be the kind of fan who does not enjoy it overall, or I will walk away. I will cut that short to save material in case I decide to do a "What I'm thankful for" edition of Daily Cup of Joe for Thanksgiving.
I have been a fan since the team moved here and even with a long drought feel like I have received my share of goodness as a fan in the 2001, 2002, 2006 and 2009 playoff runs to be net positive of a fan. I am not sure if that should be credited to my positive attitude, delusional fandom or perhaps my baseline for sports team success from growing up as a Cubs fan. Regardless, in between venting a bit here and there like I think fans are rightfully entitled to do, I still feel more positive than negative about our hockey team.
This said, the part that hurts deep down is watching years drip by for the younger fan base. Closer to and actually in my home are my 3 sons. My oldest son who is 14 years old does remember the 2009 playoffs and to some degree the 2006 playoffs though I am pretty sure that for 2006 it is more a function of me repeating stories from those games than actually having his own memory of them. But my 2 younger sons who are 10 cannot remember Canes playoff games. I realize that sports rank low compared to other more important things in life, but that absolutely breaks my heart to the point where it hurts.
I take solace in thinking about my memories of cheering on the Cubs/Sox (story there) as a child. They were NEVER any good. But following the local team, starting new seasons with optimism, stopping at Arnie's Dog House with my dad on the way up to Chicago for games and just enjoying being a fan was still special despite the team's lack of success.
I still want a return to the playoffs and at least a 2009ish type run sooner rather than later for my kids to experience, but at the same time I do think there is something to cherish in just being a fan with the neighbors, relatives, friends or whoever it is that you sit with at PNC Arena, text first when we win or commiserate with when we lose.
We all look forward to better days as a Canes fan, but I think it is important not to get so focused on the next round of winning that you give up the here and now that is part of the experience of being a Carolina Hurricanes fan.
Go Canes!