The 2015-16 NHL Rookie Class may be headlined by Connor McDavid and Jack Eichel, but this year there is a great supporting class including the Carolina Hurricanes' Noah Hanifin.  Defensemen drafted in the first round rarely play in the NHL in the year they are drafted.  Last season, Aaron Ekblad went from first overall pick to NHL rookie of the year.  Not only was Ekblad the only defensemen drafted in 2014 to play in the NHL, none of the other 5 defensemen, including the Hurricanes Haydn Fleury, have played and NHL game in the 2 years since being drafted.
Time will only tell if the smooth-skating Hanifin is the next Scott Niedermeyer, an NHL Hall of Fame defenseman, who scored 60 points in a season twice or former Hurricane Bret Hedican who never scored more then 30 pionts in a season.  Being a high draft pick will drive the price of Hanifin's cards up.  Defensemen usually do not sell as well as forwards or goalies unless they are high-scoring. Recent NHL rookie defensemen have seen a great initial interest in their cards but only to have interest die down after their rookie season (Torey Krug, Hampus Lindholm, Jacob Trouba, Olli Maatta, Morgan Rielly).  The last Hurricane rookie to generate this kind of excitement in his cards was Eric Staal.  Hopefully Hanifin can put some points on the board to keep the interest in his cards strong.
Hanifin currently has 2 cards that picture him in a Boston College uniform.
2014 Collegiate Edition Future Stars (selling between $3 and $5) (pictured immediately below)
2015 TCSP Glass Ice Rookies Blue #/40 (selling between $10 and $15)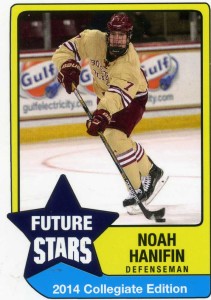 Since NHL rules require a player to appear in an NHL game before he can appear on a card, 2015-16 Upper Deck Series 1 will probably be the first card issued in a pack that contains Hanifin pictured in a Hurricanes jersey. Slated for release in early November, Upper Deck Series 1 will be in heavy demand since it will contain the Young Guns card of Connor McDavid.
The redemption cards that can or will include a Noah Hanifin card are:
2015-16 Upper Deck MVP Metropolitan Division Redemption Card
This redemption card can be redeemed for an 8 card set of rookies in the Metropolitan Division.  It will probably feature 1 player for each team.
Odds of pulling this card is 1 in 192 hobby packs  (1 in 8 hobby boxes).  Currently selling between $25 and $35.
2015-16 Upper Deck Artifacts Carolina Hurricanes Redemption Card (RED 210)
This redemption card can be exchanged for a card of Hanifin in a Hurricanes jersey.  Usually available in January.
Odds of pulling a redemption card are 1 in 9 hobby packs  (1 in 96 retail packs).  There are 40 different redemption cards, so the odds of pulling the Hurricanes redemption card are in 1 in 360 packs.  Currently selling between $10 and $15.
While Hanifin we fans wait for 2015-16 hockey cards to roll in, there are other great items that can be autographed included 2015 NHL Draft logo puck (pictured below) or a June 1025 New England Hockey Journal magazine (pictured below) featuring Hanfin and Jack Eichel on the cover.
Enter the code Hanifin10 and get free shipping on your entire order at Canescards.com.