Thank you to everyone who submitted articles to be considered for Reader Week at Canes and Coffee! I thoroughly enjoyed reading articles from every which angle ranging from fan stuff to analysis to commentary on the 2016-17 team.
If you missed them, you can find the first 4 posts here:
On Monday, Matt Somma wrote about how he became a Carolina Hurricanes fan.
On Tuesday, Justin Ryan wrote about the snub of Justin Faulk for the US World Cup team.
On Wednesday, Bill Dowey wrote about his favorite year for Hurricanes hockey.
On Thursday, Cory Fogg asked if it was Julien Gauthier time in Raleigh.
————————————————————-
Today's reader post
Submitted by @IronCaniac
IronCaniac is a 30-year-old attorney living in the Washington, DC area.  I first started following the Canes just before the start of the 2002 playoffs after my parents won tickets to a game at a work party raffle.  My family and I have been Caniacs ever since.  The Canes inspired me to learn to skate and play hockey, which culminated in winning a league championship with my university club team a few years ago.
———————————————————–
1 – A Canes Jersey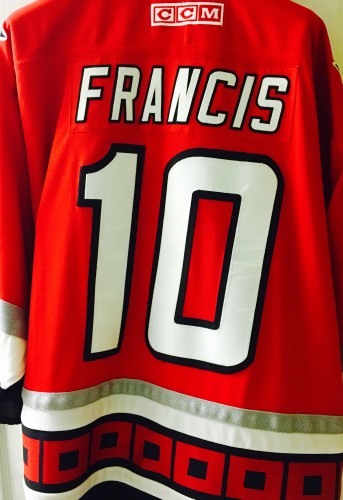 Home, away, or alternate; blank or customized; Reebok Edge or old school CCM/Koho—any Canes sweater will do. Wearing a jersey is by far the most prominent and easily recognizable sign of sports fandom.  However, the big caveat here is that NHL jerseys can be quite expensive, especially if you go for the authentic, customized option.  That means they can be cost-prohibitive for students or the casual Canes fan.  Personally, I had to save up for my first one that I got while the prices were low due to the 2004-05 lockout.  It may take a while to save up or to find a good deal, but it's worthwhile in the end to be able to pull on the same crest that your favorite team wears.  Also, don't underestimate eBay, the bargain racks at a general sporting goods store, or Christmas/birthday wish lists as viable resources for getting that coveted Carolina Hurricanes jersey.
2 – Casual Canes Apparel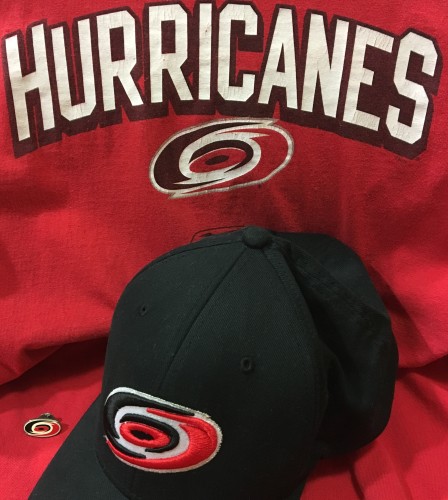 A jersey is great for showing your fandom at games and other Canes-related events, but let's be honest, it's not always appropriate for every occasion and can even be a bit ostentatious away from the rink.  A Caniac's closet should have casual apparel or accessories that can be worn year-round to demonstrate your fandom in various social settings that don't necessarily center around a Canes game.  It can be as simple as a T-shirt or ball cap with the Canes logo.  Or it can even be something functional like a tie clip, lapel pin, buff, scarf, or hair tie.  Just about anything that suits your tastes and bears the Canes logo or name qualifies here.
3 – Memorabilia from the 2006 Stanley Cup Championship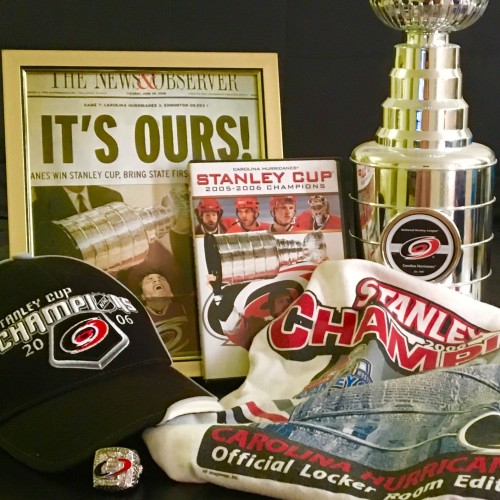 Regardless of whether you were a fan during the renowned 2005-06 season, every Caniac should be able to reflect back on the finest moment in franchise history.  Some may call it living in the past, but consider for a moment just how many pro sports fan bases have never been able to celebrate a championship.  In the NHL alone, Caniacs still have bragging rights over fans of the Blues, Blue Jackets, Canucks, Capitals, Coyotes, Jets, Panthers, Predators, Sabres, Senators, Sharks, and Wild.  That fact is reason enough for Caniacs to sit back and appreciate the Cup victory every once in a while…at least until there's another one!  (Bonus points if you also have memorabilia from the 2002 Cup run or the inaugural season.)   
4 – An Autographed Item from a Canes Player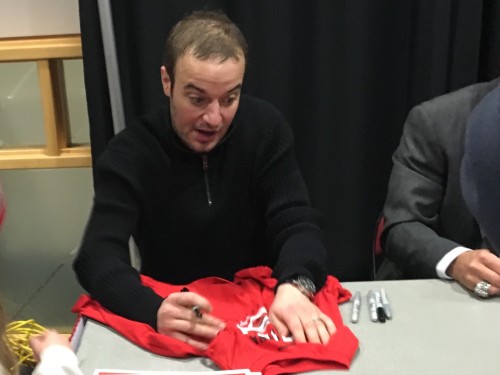 Living outside of the Carolina region, a comment I consistently hear from other hockey fans is that the Canes are exceptionally good about making their players accessible to fans.  That is to say Caniacs probably have a much easier time getting autographs from their favorite players than a lot of other NHL fans.  On top of the many sanctioned autograph sessions, such as during Summerfest or the Caniac Carnival, there's also the tradition of waiting for players in the rink parking lot after practices.  Of course, you can always buy an autographed item complete with certificate of authenticity, but there's just something about getting an autograph in person that is immensely gratifying because you're talking face-to-face with your favorite players.      
5 – A Social Media or Online Presence Expressing Your Fandom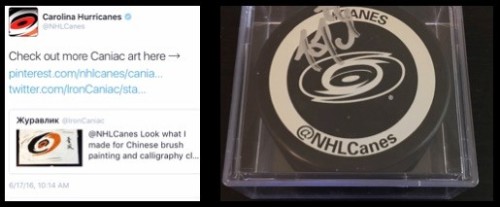 If you're reading this post, then you already follow the Canes online in some form.  Hopefully, you also follow the Canes' various social media accounts.  There's plenty to follow from Canes players to team personnel to broadcasters to other fans and fan blogs.  For better or worse, to thrive in this day and age, a brand has to have a strong online following.  So…let the Canes know you're out there!  Post pictures of yourself at Canes games on Facebook!  Retweet and reply to their gameday tweets!  Take advantage of their many online promotions!  (If you have privacy concerns, you can always create an account using an online alias, like I did, for the sole purpose of participating in the Canes' social media promotions.)
So do you have all five things every Caniac should have?  Is there anything that should be added to the list?  This list is purely for fun.  It should go without saying that in no way should you consider yourself any less of a Caniac if you don't have all of the above.  Maybe you already have everything listed, or maybe you're still working on getting that autograph.  Think of the list as being more like guidelines than firm requirements.  The most important thing is to be proud and to have fun with your Canes fandom.  
Go Canes!