For those looking for a more serious recap of the 3rd round of the tourney/bracket event it will be posted sometime Tuesday night.
The fun picture book version follows.
First, a huge thank you the Carolina Hurricanes celebrities Mike Commodore, Zach Boychuk and Michelle McMahon for taking a minute to acknowledge our fledgling Hurricanes site and participate a tiny bit in the ongoing bracket event.  Thank you also to Mark from Three Region NC and Cory Lavalette from Canes Country for helping spin up a couple Photoshop pictures and Jamie Kellner (also from Canes Country) who provides most of the regular photos for the site.
The more serious recap of third round action features some interesting matchups, voting and a who's who of Carolina Hurricanes legends.  This version will instead spotlight the epic battle between Cinderella story Mike Commodore and Hurricanes legend Rod Brind'Amour.
Attempting to ride his seventh man (Twitter) to another stunning upset, Mike Commodore made a valiant attempt to do the unthinkable and upset franchise icon Rod Brind'Amour.  The matchup proved to be best of the tournament thus far.
Things started about as expected with Brind'Amour marching out to a commanding early lead.
Then hockey happened and Canes fans returned to PNC Arena for the Caniac Carnival and practices.  At this point in time, Brind'Amour looked to be well on his way to an easy win.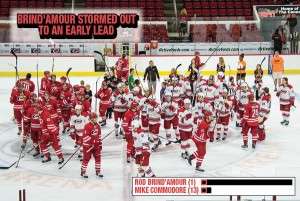 Graphic created by Cory Lavalette using photo from Jamie Kellner.
But while Canes fans were busy flocking to PNC Arena to welcome back hockey, Mike Commodore regrouped just as he had in earlier rounds, formulated a plan at the intermission and made his move.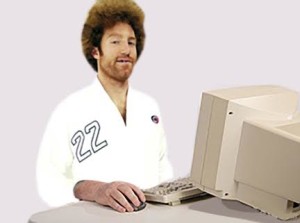 Graphic created by Cory Lavalette.
Just like in earlier rounds, the comeback was swift and stunning.  Before anyone knew what was happening, Mike Commodore and his Twitter following had Team Commodore to a lead over Rod Brind'Amour with only about 24 hours left in voting.
Along the way, new Hurricanes TV and web personality Michelle McMahon had her allegiances tested.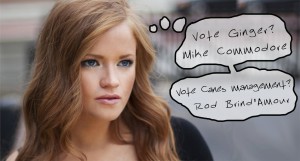 Graphic created by Mark of Three Region NC.
At least on Twitter, she originally stated that she was voting Ginger.  Due to the privacy that we maintain for all of our voters (and the fact that I don't know how to check it), we will not be divulging how Michelle actually voted.  And there is no truth to the rumors (that I made up just now :-)) that Canes and Coffee has received requests from Hurricanes management to determine if she ultimately changed course and voted for Rod Brind'Amour who is a fellow employee of Hurricanes hockey.
Then just when things looked most dire for Rod Brind'Amour, a hero came out of nowhere.  A hero who could match Mike Commodore on Twitter.  A hero who would try to make things right for a Canes legend.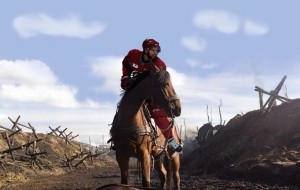 Graphic created by Mark of Three Region NC using Zach Boychuk photo from Jamie Kellner.
The game seemed over when Zach Boychuk rode into the fray and implored Hurricanes fans and his followers to #SaveBrindy.  What followed was a quick rebound and ultimately a win by Rod Brind'Amour sending the greatest underdog in Canes and Coffee Summer Event history (which is all of about 4 weeks old now) to a disappointing but admirable loss.  Out of appreciation for Mike Commodore's willingness to humor me and provide a boost to a fledgling Canes hockey site, I am promising that someday if I get a budget to make a "One Shining Moment" high-end video, he gets top billing.
I have no idea how it relates to the event, but right in the midst of the most pressure-packed moments and highest level of activity on Twitter, the truck below seemed to be repeatedly circling the Canes and Coffee headquarters.  It drove off quietly into the night only when it seemed certain that Rod Brind'Amour had things in hand.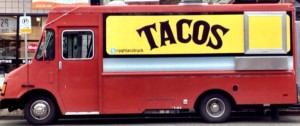 Sometime within the next week, I will be contacted Doug Warf, Michael Smith, Mike Sundheim, Kyle Hanlin and anyone else in Hurricanes marketing and/or PR to see if we can drag Rod Brind'Amour onto Twitter and get him and Ron Francis up to speed quick enough on Twitter to engage in a knock down, drag out trash talking battle for the Canes and Coffee Summer Event 2015 Finals.
We are also working on plan B to concoct similar via Photoshop work. 🙂
Go Canes!